George Matthew Riedl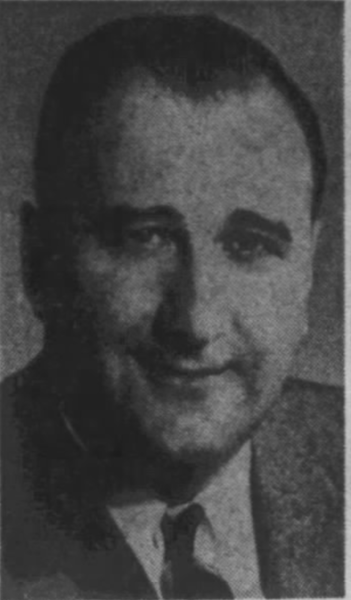 SGT in 603rd Engineer Camouflage Bn : Co C
ASN#12162429
Born 1921 in NJ, Died 1977
Artist
County of residence at enlistment: Passaic County, NJ
Other residence(s): New York, NY; Clifton, NJ; Tenafly, NJ; Paterson, NJ
United States Army, European Theatre of Operations
Occupation before the war: commercial artists
College education before the war: Pratt 3 years
Notes: Rank changed from PVT to SGT per New York Area Leave List; deputized as MP few times
Source: 603rd Camouflage Engineer Roster provided by W. Anderson; Comment by Howard Holt; Company C roster; Fort Meade clipping from Harold Dahl; photo from Passaic Herald-News, Jan 26, 1962
George Riedl was born on April 13, 1921 in Garfield, NJ, the youngest of three children. Both of his parents had been born in Hungary; when George was six years old they became the proprietors of a butcher shop/grocery in Clifton, NJ, a business George's father ran until his death. (And which his older brother Matthew continued to operate.)
George graduated from Clifton High School in 1939 and went on to study advertising design at Pratt Institute in New York City, along with dozens of other future Ghost Army soldiers. He registered for the draft on February 14, 1942 and graduated from Pratt on June 9, 1942. An article in the Passaic NJ newspaper reports that he was president of the senior class at Pratt, art editor of a college publication, vice president of his fraternity, a star on the baseball team, and a heavyweight boxing contender. It also reports that he had designed a "Rumor" poster for the government, and that he had "studied military camouflage under military supervision" at Pratt—a program in which a number of other Ghost Army soldiers had participated.
He enlisted a few months later, on October 1, 1942, and eventually found himself in the 603rd Engineer Camouflage Battalion. He saw service in Europe during the war, and was discharged from the Army on October 1, 1945.
After the war he married Louise Ramaglia, and got a job as art director of Merit Displays in New York City, later moving to a Madison Avenue advertising agency. He and Louise would go on to have two children: Jeffrey and Judy.
Five years later, George and fellow NYC adman Robert Freede started their own tiny agency in Paterson, NJ which grew rapidly over the years. They eventually moved the agency to Clifton, and by 1962 they had become the largest agency in New Jersey. By 1967, they were a lucrative international agency with annual billings of $8 million and ten foreign accounts.
Their clients included Marcal Paper, GE Credit Corp, and Cott Beverage Corp (for whom they developed the tagline: "It's Cott to be good!"). Yet they still did work for one of their very first accounts, Brogan Cadillac, which selected them in the agency's first month of operation.
They had also expanded beyond the bounds of traditional advertising; along with their research director Riedl and Freede earned a patent on a new concept in aerosol packaging in 1965.
A 1967 newspaper article reports that the two had started the agency based on a shrewd diagnosis of the economic scene in New Jersey—rapid post-war industrial growth, and many smaller accounts that the Madison Avenue firms were not interested in.
But in 1967, dark clouds were brewing. Freede was indicted in Manhattan on charges of larceny, forgery, and conspiracy. He resigned as president of the agency, and George took over and changed the name to Riedl Associates, although Freede was still half owner. Freede was cleared of the charges in 1969, but the agency had lost three fourths of its business during the scandal. The two partners disagreed on how to rebuild, and eventually determined to dissolve the agency and go their separate ways.
George continued to operate a new agency as Riedl Associates, which again grew to become one of the largest ad agencies in the East.
In 1971 he served as the best man at his son Jeffrey's wedding.
George was a member of the Advertising Club of New York, a member of the American Legion Post 347 in Clifton, a founder and director of the Montammy Country Club in Alpine, NJ, and a member of the Metropolitan Golf Association in NY.
He died of a heart attack on September 10, 1977 and is buried at Calvary Cemetery in Paterson, NJ.
Photo:
1962 in newspaper article (see below)
Sources:
1930 census
https://www.ancestry.com/discoveryui-content/view/21055706:6224?tid=&pid=&queryId=ef71d50a1fe5ff6dec41a4cb31d4d9fe&_phsrc=bIi2&_phstart=successSource
1940 census
https://www.ancestry.com/discoveryui-content/view/131920984:2442?tid=&pid=&queryId=ef71d50a1fe5ff6dec41a4cb31d4d9fe&_phsrc=bIi4&_phstart=successSource
1942 article in the Herald-News (Passaic NJ) re his graduation from Pratt (note that the headline is wrong)
https://www.newspapers.com/image/524741856/?terms=george%20m%20riedl&match=1
1942 draft card
https://www.ancestry.com/discoveryui-content/view/301209885:2238?tid=&pid=&queryId=ef71d50a1fe5ff6dec41a4cb31d4d9fe&_phsrc=Wmc9&_phstart=successSource
1946 marriage record
https://search.ancestry.com/cgi-bin/sse.dll?indiv=1&dbid=61253&h=991185810&tid=&pid=&queryId=ef71d50a1fe5ff6dec41a4cb31d4d9fe&usePUB=true&_phsrc=bIi8&_phstart=successSource
1954 Ridgewood NJ city directory
https://www.ancestry.com/discoveryui-content/view/1372167341:2469?tid=&pid=&queryId=ef71d50a1fe5ff6dec41a4cb31d4d9fe&_phsrc=bIi7&_phstart=successSource
1954 article in the Herald-News (Passaic NJ) about his career to date
https://www.newspapers.com/image/527372386/?terms=george%20m%20riedl&match=1
1942 enlistment record
https://search.ancestry.com/cgi-bin/sse.dll?indiv=1&dbid=8939&h=610891&tid=&pid=&queryId=ef71d50a1fe5ff6dec41a4cb31d4d9fe&usePUB=true&_phsrc=Wmc6&_phstart=successSource
1962 article in the Herald-News (Passaic NJ) about his advertising firm
https://www.newspapers.com/image/523717333/?terms=george%20m%20riedl&match=1
1965 article in the Herald-News (Passaic NJ) about the agency's aerosol patent
https://www.newspapers.com/image/523780998/?terms=george%20m%20riedl&match=1
1967 article in the Herald-News (Passaic NJ) about the international expansion of the agency
https://www.newspapers.com/image/527372386/?terms=george%20m%20riedl&match=1
1969 article in the Herald-News (Passaic NJ) about the dissolution of the Riedl & Freede agency
https://www.newspapers.com/image/527453635/?terms=george%20m%20riedl&match=1
1969 brother's obituary in the Herald-News (Passaic NJ)
https://www.newspapers.com/image/527016204/?terms=george%20m%20riedl&match=1
1971 article in the Herald-News (Passaic NJ) re his son's wedding
https://www.newspapers.com/image/527517272/?article=fc092124-2b48-4d16-b633-0161972c6519&focus=0.18019399,0.2387693,0.29061645,0.5189041&xid=3398
1977 obituary in The News (Paterson NJ)
https://www.newspapers.com/image/531567213/?article=538a0243-466d-4559-a398-8f382e3a439d&focus=0.6272894,0.5375866,0.7428424,0.77259&xid=3355&_ga=2.12453620.1944769495.1640381708-811641235.1640381708
1977 obituary in The Record (Hackensack NJ)
https://www.newspapers.com/image/493809172/?terms=george%20m%20riedl&match=1
1977 VA death record
https://www.ancestry.com/discoveryui-content/view/10541852:2441?tid=&pid=&queryId=ef71d50a1fe5ff6dec41a4cb31d4d9fe&_phsrc=Wmc8&_phstart=successSource
1977 Social Security applications and claims index
https://www.ancestry.com/discoveryui-content/view/35632290:60901?tid=&pid=&queryId=ef71d50a1fe5ff6dec41a4cb31d4d9fe&_phsrc=bIi3&_phstart=successSource