Elwood Eugene Rensch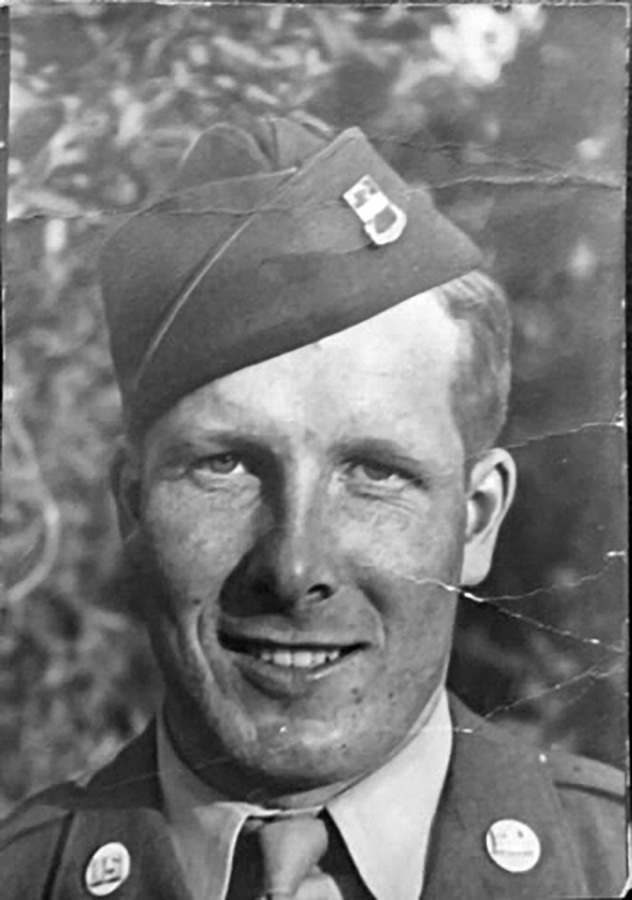 CPL in 603rd Engineer Camouflage Bn : Co D, 1st Platoon
ASN#15105406
Born 1917 in OH, Died 2005
Artist
County of residence at enlistment: Crawford County, OH
Other residence(s): Galion, OH in 1942; Frankfort, KY; McLean, VA; Great Falls, VA; Sarasota, FL; Richmond, VA
United States Army, European Theatre of Operations
Occupation before the war: actors and actresses
College education before the war: Ohio State 4 years
Notes: SGT at Ft Meade
Source: 603rd Camouflage Engineer Roster provided by W. Anderson; Bernie Mason Company D Roster; Bernie Mason photo of Company D in Trier with names on back; photo from Elwood's granddaughter Janet Brocklehurst
Elwood Rensch was born on February 1, 1917 in Galion, OH. He was the middle child of five; his father was a foreman in an electric works and later a tool maker.
He graduated from Galion High School in 1935, where he was active in the Hi-Y Club and won the high jump at the senior high school field day in 1935.
He registered for the draft on October 16, 1940, at which time he had completed one year at Ohio State. It's likely he'd worked for a few years between high school and college. The 1940 census lists his work as a stonecutter helper for a monument company; this may have been part-time or summer work but may offer a clue to his work after high school.
He graduated from Ohio State University in 1942 with a degree in landscape architecture; there he was a member of the architects' club and was also an officer in Army ROTC.
He enlisted the summer after graduation, on July 29, 1942. By the time he married Patricia Mae Pollock, on Valentine's Day, 1943, he was stationed at Fort Meade with the rank of SGT. He served in Europe with the 603rd Engineer Camouflage Battalion during the war, and was discharged from the Army on September 20, 1945.
By 1948 Elwood and Pat were living in Frankfort, KY, and he was working as a landscape architect in the Kentucky State Parks Division. In 1950 they moved to Richmond, VA when he took a job as a landscape architect with the National Parks Service (NPS).
Elwood would remain with the NPS for 30 years, working in various capacities--as a landscape architect, a supervisory landscape architect, and assistant manager for the National Capital region.
Elwood and Pat had four children: David, Constance, Phyllis, and Barbara. After moving to the DC office, the family lived in McLean, VA and Great Falls, VA.
In the early to mid-1980s, after Elwood retired from the NPS, he and Pat moved to Sarasota, FL where they lived for at least 15 years. They eventually moved back to Richmond.
His obituary says of him that "wherever he found himself, he used God's gifts of plant material and native and exotic woods to make the world a more beautiful place."
Elwood died in Richmond on February 16, 2005, and is buried at National Memorial Park in West Falls Church, VA.
Photo:
1942 yearbook photo
https://www.ancestry.com/discoveryui-content/view/243776356:1265?tid=&pid=&queryId=bb0739abce275824af33cd632ce48e15&_phsrc=fBA6&_phstart=successSource
Sources:
1920 census
https://www.ancestry.com/discoveryui-content/view/11641945:6061?tid=&pid=&queryId=bb0739abce275824af33cd632ce48e15&_phsrc=fBA4&_phstart=successSource
1935 article in the Telegraph-Forum (Bucyrus, OH) re high school event
https://www.newspapers.com/image/601410171/?terms=elwood%20rensch&match=1
1940 census
https://www.ancestry.com/discoveryui-content/view/29597746:2442?tid=&pid=&queryId=bb0739abce275824af33cd632ce48e15&_phsrc=fBA3&_phstart=successSource
1940 draft card
https://www.ancestry.com/discoveryui-content/view/200277718:2238?tid=&pid=&queryId=bb0739abce275824af33cd632ce48e15&_phsrc=fBA1&_phstart=successSource
1940 article in the News-Journal (Mansfield OH) indicating he was in ROTC
https://www.newspapers.com/image/294079487/?terms=elwood%20rensch&match=1
1942 enlistment record
https://search.ancestry.com/cgi-bin/sse.dll?indiv=1&dbid=8939&h=548498&tid=&pid=&queryId=bb0739abce275824af33cd632ce48e15&usePUB=true&_phsrc=fBA2&_phstart=successSource
1942 article in Mansfield News-Journal (OH) indicating he is with the 603rd
https://www.newspapers.com/image/293744556/
1943 article in Columbus Dispatch (OH) re his marriage and military service
https://www.genealogybank.com/doc/newspapers/image/v2%3A1467499E363272B3%40GB3NEWS-1606438C38CFB7C2%402430777-1604E72120EF87C7%4041-1604E72120EF87C7%40?h=1&fname=elwood&lname=rensch&fullname=&kwinc=&kwexc=&rgfromDate=&rgtoDate=&formDate=&formDateFlex=exact&dateType=range&processingtime=&addedFrom=&addedTo=&sid=zipgnsnpzhorwklorthvopmctsjihfwp_wma-gateway008_1625681952950
1945 article in the News-Journal (Mansfield OH) re his speaking at Rotary Club
https://www.newspapers.com/image/292418432/?terms=elwood%20rensch&match=1
1945 article in Columbus Dispatch (OH) indicating he's just come home from Germany; rank SGT
https://www.genealogybank.com/doc/newspapers/image/v2%3A1467499E363272B3%40GB3NEWS-16049B4A946459F9%402431666-16044F0EA2CCE87A%4057-16044F0EA2CCE87A%40?h=2&fname=elwood&lname=rensch&fullname=&kwinc=&kwexc=&rgfromDate=&rgtoDate=&formDate=&formDateFlex=exact&dateType=range&processingtime=&addedFrom=&addedTo=&sid=zipgnsnpzhorwklorthvopmctsjihfwp_wma-gateway008_1625681952950
1948 US City Directories, Frankfort KY
https://www.ancestry.com/discoveryui-content/view/741032559:2469?tid=&pid=&queryId=f2787bfd2c7cfc3def58ef0184b842f1&_phsrc=iiD9&_phstart=successSource
1949 article in Telegraph-Forum (Bucyrus OH); they are living in KY
https://www.newspapers.com/image/601839907/?terms=elwood%20e%20rensch&match=1
1950 article in News-Journal (Mansfield OH) re his moving from KY to VA when he took job with NPS
https://www.newspapers.com/image/294449754/?terms=elwood%20rensch&match=1
2005 Social Security death index
https://search.ancestry.com/cgi-bin/sse.dll?indiv=1&dbid=3693&h=75025357&tid=&pid=&queryId=bb0739abce275824af33cd632ce48e15&usePUB=true&_phsrc=fBA2&_phstart=successSource
2005 VA death record
https://www.ancestry.com/discoveryui-content/view/2733972:2441?tid=&pid=&queryId=bb0739abce275824af33cd632ce48e15&_phsrc=fBA3&_phstart=successSource
2005 Find a Grave record
https://www.findagrave.com/memorial/35400109/elwood-e-rensch
2005 obituary
https://www.legacy.com/us/obituaries/timesdispatch/name/elwood-rensch-obituary?id=5390220
2015 wife obituary
https://www.legacy.com/us/obituaries/galioninquirer/name/patricia-rensch-obituary?pid=175016883