Darrel Downing Rippeteau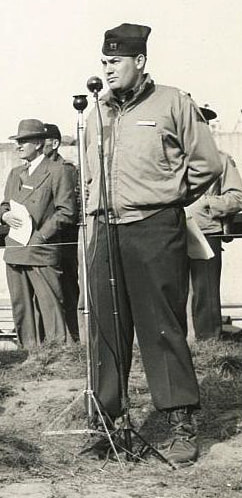 CPT in Army Experimental Station at Pine Camp : S-3
Born 1917 in NE, Died 2016
Artist
County of residence at enlistment: Lincoln County, NE
Other residence(s): Clay Center, NE; Watertown, NY; Delray Beach, FL
United States Army, did not accompany the unit to Europe
College education before the war: Univ. of Nebraska, Lincoln
Notes: final rank LT COL
Source: AES 1944 Christmas Dinner Program; photo courtesy Rippeteau family
Darrel Rippeteau was born on January 14, 1917 in Clay Center, NE, the older of two sons.
He graduated from Clay Center High School in 1935. The summer before graduation, he'd started attending Citizens Military Training Camp* for a month each summer. He continued through the summer of 1937, earning his 2LT rank in 1936. A newspaper article at the time said that he pursued his military studies with the same "earnest desire" he applied to everything he worked on. The article went on to describe how he spent his eleven months of "vacation" from camp each year studying military problems in textbooks.
Darrel married Donna Doris Hiatt early in 1939, and filled out his draft card on October 16, 1940. At the time he said that he was attending college and working for the WPA at their area office.
As a senior at the University of Nebraska, Lincoln (UNL) School of Architecture, he placed fourth in a national contest sponsored by the Beaux-Arts Institute of Design to design a 1,000 watt broadcast transmitter station (an interesting design challenge for an architecture student.)
He graduated from UNL in 1941. A later article says that he was working as a draftsman for the government at this time; this was likely his WPA work.
Darrel enlisted in the Army in May, 1942 with a commission as a 2LT. He worked in field artillery at Fort Sill, OK, and was later appointed to serve at Fort Knox as an instructor in field artillery and tank destroyer tactics. After a tour of duty with the 20th Armored Division, he was assigned to the Experimental Station at Pine Camp (now Fort Drum), near Watertown, NY, with the rank of CPT. He was charged with directing research and development projects for the Signal Corps and Corps of Engineers. The sonic deception unit of the Ghost Army, the 3132 Signal Service Company, activated and trained at Pine Camp.
When the Pine Camp operation closed, he went on to serve on General Eisenhower's staff at the Pentagon, assigned to the chief signal officer. After the war he remained in the Army Reserves until 1970, eventually earning the rank of LTC.
His brother also saw stateside military service during the war as an enlisted man in California and Washington, DC.
He apparently liked the Watertown area, since he and his wife stayed there after the war. He took a job with the Syracuse-based architectural/engineering/design firm Sargent, Webster, Crenshaw, and Folley in Watertown in 1946 and remained there until his retirement, becoming managing partner in 1974. The firm designed schools and public buildings and he was involved in more than 3,000 projects between 1946 and 1979. These included schools across the North Country, the Justice Building on the NY State Capitol Campus in Albany, and major buildings in Watertown including the Dulles State Office Building, the Watertown Municipal Building, and the Watertown Daily Times building. His obituary in the Watertown Daily Times was headlined: "Man who helped build Watertown...."
He often credited his military training for his professional success and community involvement.
Darrel and Donna were the parents of three children: Bruce, Darrel, Jr., and Jane. Darrel was also very active in the community. Over the years, he served as president of the Greater Watertown Chamber of Commerce, director of the National Bank of Northern New York (now Key Bank), board member of the Empire State Chamber of Commerce, president of the Northern New York/Fort Drum Chapter of the Association of the United States Army, president of the local Reserve Officers Association, trustee of the Jefferson County Historical Society, President of the NY State Association of Architects, and chair of the NY State Forest Practices Board. (He owned tree farms on the Tug Hill Plateau.)
He was also a founding member of the Shipyard Museum, now the Antique Boat Museum, in Clayton, NY. He was active in the First Presbyterian Church of Watertown (where he served as a Trustee), the Watertown Rotary, and the Republican Party. He was also a fellow of the American Institute of Architects. He was a hunter and a pilot, taking his children up in the air in a Piper Cherokee they nicknamed The Pterodactyl.
He received several awards including an Outstanding Citizen award from St. Lawrence University in 1971 for his service to the North Country.
And he remained linked to UNL, serving as a member of the Professional Advisory Council for the School of Architecture and winning one of the University's Alumni Achievement Awards in 1981. He liked to hire UNL architecture graduates and both he and his firm endowed UNL scholarships in architecture.
After retiring, Darrel moved to Delray Beach, FL. His wife, Donna, died in 1988 after nearly 50 years of marriage. In 1991 he married again--to Joyce Spencer; they would be married for 25 years.
Darrel died in Delray Beach on February 8, 2016 at the age of 99.
*Citizens Military Training Camp was a volunteer pre-enlistment training program which ran from 1921-1940, and allowed young men to obtain basic military training without an obligation to be called to active duty. If an individual attended for four summers, they would be offered the rank of 2nd Lieutenant in the Army Reserves. About 400,000 men attended at least one summer, including Harry Truman, Ronald Reagan, Robert Penn Warren, and Chuck Yeager.
Photo:
with his obituary
https://www.lorneandsons.com/obituary/3597732
Sources:
1935 article in Clay County Sun (NE) re his high school graduation
https://www.newspapers.com/image/674096470/?terms=darrell%20d%20rippeteau&match=1
1936 article in Clay County Sun (NE) re his participation on CItizens Military Training Camp
https://www.newspapers.com/image/674187447/?terms=darrell%20d%20rippeteau&match=1
1939 article in Beatrice Daily Sun (NE) re his marriage
https://www.newspapers.com/image/507738472/?article=91a00f13-4841-4c83-b5cd-cbfee72b56e7&focus=0.38210773,0.055129692,0.63093954,0.56591165&xid=3398&_ga=2.120889224.1014603899.1606939333-1429075086.1606939333
1940 article in Nebraska State Journal re his architecture prize
https://www.ancestry.com/imageviewer/collections/8099/images/NEWS-NE-TH_NE_ST_JO.1940_10_20_0004?treeid=&personid=&hintid=&queryId=4b98d2821172c55360eb070096d24dbf&usePUB=true&_phsrc=kOr8&_phstart=successSource&usePUBJs=true&pId=493178884
1940 draft card
https://search.ancestry.com/cgi-bin/sse.dll?indiv=1&dbid=2238&h=16915169&tid=&pid=&queryId=d347ce4e98441828ba4558b1f46cf3e7&usePUB=true&_phsrc=JxZ3&_phstart=successSource
1954 article in the Edgar Sun (NE)
https://www.newspapers.com/image/673111977/?terms=darrell%20d%20rippeteau&match=1
1968 article in the Edgar Sun (NE) re his serving as officer of NY State Association of Architects
https://www.newspapers.com/image/673103639/?terms=darrell%20d%20rippeteau&match=1
1981 article in the Lincoln Star (NE) re his UNL award
https://www.newspapers.com/image/310717040/?terms=darrell%20d%20rippeteau&match=1
2016 obituary in Lincoln Journal-Star (NE)
https://www.newspapers.com/image/607380584/?article=bc672e8e-7e6d-4831-bc68-a90263a22ed5&focus=0.34282768,0.03935389,0.50214225,0.50387734&xid=3355&_ga=2.229941020.1014603899.1606939333-1429075086.1606939333
2016 funeral home obituary (slightly longer)
https://www.lorneandsons.com/obituary/3597732
2020 article in NNY360 about Pine Camp and Rippeteau's life
https://www.nny360.com/artsandlife/localhistory/donation-sheds-light-on-sonic-deception-program-at-pine-camp/article_220a7588-2c58-5d50-875f-ca1afd4533dc.html