Training in the USA
March 28, 1943
Letters from Harold J. Dahl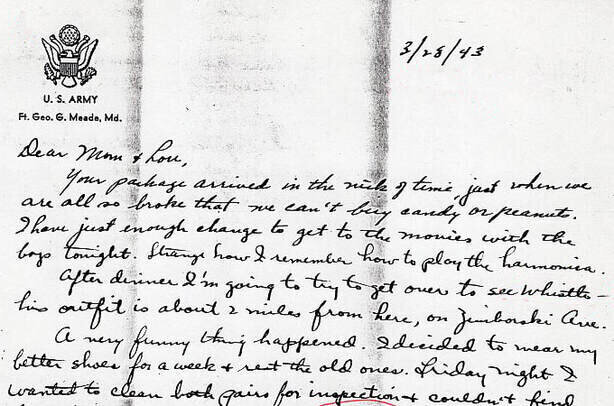 U.S. Army
Ft. Geo. G. Meade, Md.
[Sunday]
3/28/43
Dear Mom & Lou,
Your package arrived in the nick of time, just when we are all as broke that we can't buy candy or peanuts. I have just enough change to get to the movies with the boys tonight. Strange how I remember how to play the harmonica.
After dinner I'm going to try to get over to see Whistle - his outfit is about 2 miles from here, on Zimborski Ave.
A very funny thing happened. I decided to wear my better shoes for a week & rest the old ones. Friday night I wanted to clean both pairs for inspection & couldn't find the old pair. All of a sudden Levinsky came walking along & there they were - on his feet! He had worn them all week by mistake & had been in terrible agony because his feet hurt him so.
We have fun with the uke - Marsh plays well & I'm progressing.
It is now after supper - this afternoon Riggs & I went our to see Whistle - found him OK & glad to see us. He said Biskley & Bridgy were coming down to see him next week-end. If I'm here I'll probably see them. It was a fine afternoon for a walk - brisk & clear as a bell. I hope it keeps up next week while I'm on the range.
Too bad about Lou's fall - what is the matter with those pins of yours Lucy?
Very little has happened around here lately - Capt Stack is away on leave so things are peaceful & quiet. I worked on boxes all week - and am glad someone else will have will have to do it next week. All must be in readiness by next Friday [4/2/43]. The major gave us an interesting talk on Saturday [3/27/43] telling us that we would be observing large installations, including photographing them & making models - and that means photographing from the air, sometimes in bombers. So we think we have an interesting near future and a possibility of becoming real experts.
Our territory will be from the Va - NC border to Wilmington and in roughly 200 miles which gives us lots of ground to cover. I'd like to be in on the Martin plant report.
Well - there isn't anything else to say - so long - I'll hope to see you soon again
Love
Harold