Training in the USA
August 14, 1943
Letters from Harold J. Dahl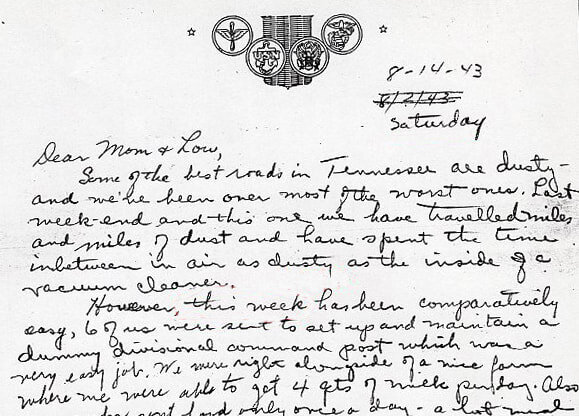 Saturday
8/14/43
Dear Mom & Lou,
Some of the best roads in Tennessee are dusty - and we've been over most of the worst ones. Last week-end and this one we have traveled miles and miles of dust and have spent the time in-between in air as dusty as the inside of a vacuum cleaner.
However, this week has been comparatively easy, 6 of us were sent to set up and maintain a dummy divisional command post which was a very easy job. We were right alongside of a nice farm where we were able to get 4 qts of milk per day. Also our cooks sent food only once a day - a hot meal and rations enough for supper & breakfast. Also coffee enough for a week. So we borrowed a couple of pots from the farmer, made ourselves a stone & tin stove and proceed to turn out some real meals with good coffee. As if that were not enough, the farmer's wife presented us with a full chicken dinner,complete with biscuit & gravy. We reciprocated with C Rations which are by no means Southern fried chicken but are none the less tasty & filling. You can see from that that Lou's & Mom's $3.00 came in mighty handy - bought all our milk for us for a week.
Lately I have been sleeping on a hammock that I made out of burlap and #10 wire - it is lots more comfortable than the ground.
We just got back to the Company a few minutes ago & I got the package of flavorings from you - gosh, what a lot of them! I never expected to get as much - we'll have plenty for quite a while. Thanks ever so much.
Sunday [8/15/43]
Well that is all I was able to write yesterday before the blues arrived and the problem ended in a victory for the reds - that is us. And D Co. - 603rd Eng. was again commended for their large part in the victory - first our CP was bombed 3 times - good joke on the Blues - second, our 4th Plt. built a pontoon bridge that was of great service, third our 1st plt successfully hid the Red Army reserve strength and 4th we all together built a mine field and a dummy mine field each of which delayed the Blue tanks long enough for our Tank Destroyers to come up. Quite a bit for 80 men among 40 or 50,000.
We are now miles away from anything except an ancient shack occupied by two aged people - the man blind and the woman unable to do very much for herself. We gave them a slab of bacon and today repaid our debt to the people of Tennessee by spending an afternoon of our rest period cutting a cord of firewood for the poor old souls who had no way of cooking their food except by gathering sticks that had fallen in the woods.
We were supposed to have been paid today but the money was not provided so we are still poverty stricken. There was a little of the $3.00 left so I threw it in the common pot to cover candy, cigarettes & cokes for all of us. A detail under Joe Taney is out buying the stuff now.
We had a near-tragedy this week. The other night the farmer next to us went in to Cato, the nearest hamlet, and came back with a story about how a truck like ours had turned over and 5 of the occupants had been carried away in an ambulance. We thought nothing of it, there being so many army trucks like ours, until later on when Capt. Stack rode up, told us to have breakfast for John Goring who was standing guard over the truck. Seems the 4th Plt. was driving blacked out as is the rule at night when their rear wheels hit a soft shoulder and the trucks did a complete roll over and fortunately enough ended up against a tree else it would have rolled on down a steep hillside into a deep gully. They were most worried about Rath, Brewer, & Hayes, all of whom were paralyzed - temporarily, it has now turned out - and Ormond who suffered such severe shock that Lt. Mason thought he was dead but kept treating him regardless. All are either OK now or nearly so - only Hayes, wo was badly cut, and Rath are still in the hospital. The truck is beyond repair so our Uncle will have to give us a nice new one.
The truck was one of our favorites because of its name. The 4th Plt. staff Sergeant is a nice sort of uneducated guy named Piasacki who often says "O.K. Fort' follow me" The truck became "Okayfort". The 1st Plt have theirs named 'Joy Boy" after Lt. Slannon. Ours are "Mad Hatter", "March Hare" and the trailer is "Doormouse". I think a good set of names for truck and trailer would be "Jack" & "Jill".
One thing we have found out here is that our big trucks are useless, and still worse are deathtraps. What we are gunning for is 5 jeeps per platoon, 3 of them with mounted machine guns & all pvts. to carry tommy guns. We have too little fire power as things now stand. And far too much material to carry around and never use. I am working on a report on the subject which will go to the Col. and, if accepted by him, all the way to Marshall himself before we can get any results.
I have lost a lot of weight - my face is ruddy but more drawn - partly from the heat and exertion and partly no doubt from being sick a couple of weeks ago. I feel fine now and am ready to go again on Tuesday [8/17/43] morning.
This should be our last week - according to present schedule we will leave here on the 26th and go back to Ft. Meade - for how long we do not know, but for awhile at least. We have a new home there - over in a different area of camp - nearer the Post affairs but farther from the RR station and "Mikes". It will seem strange to sleep in a bed and have a shower when I want it.
If you get this letter in time to send another $5.00 on loan to arrive by air mail by Friday [8/21/43] (mail Wednesday noon) please send it - I may have a pass on Saturday [8/22/43] & could use the money since otherwise I may have none if we don't get paid by then. The $3.00 you sent was a help to all of the boys & Capt. Stack wants me to thank you for him. As a matter of fact he got a couple of cigars out of it. I'll send the letter to Lou's office to save time.
I was interested to hear about Fenn - wish I could see him. Also I wrote Mary [Van Duyne] the other day -
Most go now more next week
Love
Harold