Training in the USA
June 1, 1943
Letters from Harold J. Dahl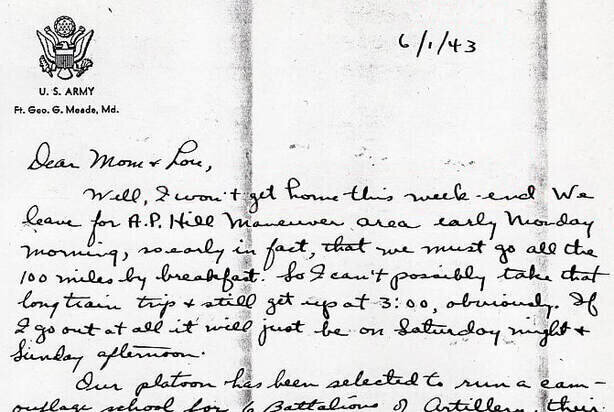 U.S. Army
Fort General G. Meade, MD.
[Tuesday]
6/1/43
Dear Mom & Lou,
Well, I won't get home this week-end. [6/5/43 -6/6/43] We leave for A.P. Hill Maneuver Area early Monday [6/7/43] morning, so early in fact, that we must go all the 100 miles by breakfast. So I can't possibly take that long train trip & still get up at 3:00, obviously. If I go out at all it will just be on Saturday night & Sunday afternoon.
Our platoon has been selected to run a camouflage school for 6 Battalions of Artillery, their last training before embarkation. We are proud to be selected although it will be a tough assignment. We will be in the middle of the area, living in fox holes & simulating actual battle conditions. A.P. Hill is where artillery fires over your head, etc. I hear it is hot, muddy & generally unpleasant.
Will you look around & see if I have a fairly decent pair of swimming trunks; I think there is a red woolen pair, & send them down together with the green gabardine shorts? We have to go swimming. Please mail them right out.
It is terrible hot here this very minute & I mean hot. Musky is the word.
I knew Anita Mersfelder & her Dad - Albert Mersfleder. Anita is Mrs. Edison's secretary & a pal of Ginny Fortiner's. Her Dad does Marines & is a friend of Mr. E. [Ellerhusen]. I gave the clipping to Stan Marc Wriglet who is a sergeant in A Company.
Glad about the raise, Lou - now that I am senior corporal in the Company I may get one some day too. Not a bad one either - $12 per mo. Am sending enough to the bank to cover my insurance and am paying the bills in a day or so.
Hovel leaves tomorrow [6/2/43] to be married - we're all going out on a bachelor party tonight - Joe Taney goes next Wednesday. I saw one of Joe's wedding announcements - he is being married in Chestnut Hill next Wednesday - wish I could be there. They don't say "Sergeant Joseph A. Taney III" they say "Mr." and add "Army of the United States".
The other night Joe & I saw newsreels of the boys entering Bigerte. Did my heart good to see the people so happy to see the boys with the American flags on their arms. The tanks rolled into town with guys riding all over them & the girls & others ran along side of them tossing flowers at them, excited as could be. I wonder if the same thing won't happen in Italy? I can imagine what it will be in Norway. Remember Mom, when I said in those dark days that some day the Americans would help them & fix everything? Well, it looks now like my faith was well founded, doesn't it? I wouldn't be surprised to see a large part of Norway free before winter comes again.
Well, the boys want to go - so long for now -
Love
Harold