Stanley Frederick Martineau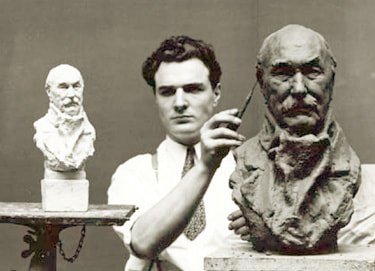 PVT in 603rd Engineer Camouflage Bn : Co A
ASN#32529844
Born 1915 in Canada, Died 1977
Artist
County of residence at enlistment: Litchfield County, CT
Other residence(s): Montreal, Canada; Missoula, MT; New York, NY; Torrington, CT
United States Army, European Theatre of Operations
Occupation before the war: artists, sculptors, and teachers of art
College education before the war: Monument National in Montreal
Notes: WWII Army enlistment record lists 4 years of high school
Source: 603rd Camouflage Engineer Roster provided by W. Anderson; photo courtesy of Roy Eichhorn
Stanley Martineau was born on December 5, 1915, in Montreal, Quebec, Canada. His father, Joseph Arcade Martineau, had carved many memorials in the eastern United States and Canada, including one to President Harding in New Hampshire, the Doolittle Fountain in Vermont, and carvings on the Parliament buildings in Canada. Joseph died when Stanley was only 15, but Stanley knew that he wanted to follow in his father's footsteps. He studied at Monument National in Montreal for a semester when he was 17, and then went to New York where he served as an assistant to New York sculptor Charles Keck. (Keck had created architectural sculptures, monuments, and memorials throughout the U.S.)
A year later, at the age of 19, he was commissioned to do a memorial sculpture of Lewis and Clark for what is now the University of Montana in Missoula. He also sculpted a historic plaque, and did private sculpting for Missoula families while he was there.
Frederic MacMonnies of New York and Paris saw young Martineau's work and offered to take him on as an assistant and pupil. (Both Keck and MacMonnies had studied with Augustus Saint-Gaudens.)
After two years with MacMonnies, Martineau opened his own studio in New York.
At some time during the 1930s, possibly when he was working in Montana, Martineau had tried out pro boxing as a light heavyweight--fighting in the western US states, including several bouts in Missoula. (He was 6 feet tall and 185 pounds when he registered for the draft in 1941.)
In 1937, Martineau was hired to create a large sculpture of Franklin Roosevelt. He spent time at the White House to capture his subject in person, and created a 3-ton 13' high bust of Roosevelt, carved from rock gypsum. He showed the work in his Long Island workshop in June, 1942. It appeared in the June 13 "New York at War" parade and was displayed at the general post office in New York in January, 1943 to kick off the New York City March of Dimes effort.
In April, 1941, Stanley eloped to Elkton, MD with Florence Baker Tailer, a NYC heiress who'd obtained a quickie Nevada divorce from her first husband ten days earlier. Florence had married what the newspapers called "the more socially eligible T. Suffern Tailer," when she was 20, and was the mother of two daughters. A 1943 NY Daily News article says that Florence "startled her family when she married Stanley Martineau, a poor but honest sculptor and one-time pugilist."
During his NYC sculpting period, Stanley had been hired to create a marble sculpture of the grandchildren of Florence's grandfather, George F. Baker, the 3rd richest man in America at the time of his death in 1931. It's likely that he and Florence had met then.
In September, 1941, Stanley filled out his draft registration, and in December he filled out the forms declaring his intention to pursue US citizenship. Six months later, Florence gave birth to their only child, Michael, and on October 15, 1942, Stanley enlisted in the Army.
He was fast-tracked to citizenship, receiving his papers on June 2, 1943, while stationed with the 603rd in Fort Meade, MD.
While Stanley was at Fort Meade, the time came for the public launch of his Roosevelt bust. GALP member Roy Eichhorn tells the story: "Martineau disappeared from Ft Meade one day and was listed as AWOL. The commander was furious. What the CO didn't know was that Martineau had been working on a huge bust of Franklin Roosevelt, and he was dispatched to New York for the unveiling."
In October, 1943, he was discharged from the Army due to flat feet. But it looks like he went to Europe anyway—just not with the Ghost Army. Evidence points to his serving as an ambulance driver during the battle of Anzio in the first half of 1944, and a trip on a Liberty Ship from Antwerp, Belgium to NYC on June 30, 1945 confirms his presence in Europe through the end of the war.
After the war, Stanley and Florence settled in Torrington, CT and he continued to produce commissioned works for the rest of his life.
He also had a brief foray into theatrical production when he joined Robert Whitehead and Oliver Rea as co-producers of Carson McCullers' The Member of the Wedding, which opened in NYC in January 1950, starring Ethel Waters and Julie Harris. The production ran there for 14 months, won a NY Drama Critics Award, and then went on tour. He had met Whitehead and Rea when they were all driving ambulances in Anzio only five years earlier!
Among the works he is best known for are two bronzes in the New York University Hall of Fame for Great Americans--one of Alexander Graham Bell installed in 1951, and one of scientist Josiah Willard Gibbs installed in 1957. He also created medals for the Hall of Fame series for these two figures and an additional medal of Augustus Saint-Gaudens in 1971. (That's only fitting since both of his NYC teachers studied with Saint-Gaudens.)
In 1963 he created a 6' tall group sculpture entitled "Bob Cousy in Action" commissioned by the Boston Celtics for placement in the National Art Museum of Sport; it was the first work especially commissioned for the Museum.*
He also sculpted Harry Truman and horse breeder and philanthropist W.K. Vanderbilt.
In 1969 he was honored with the Saltus Award for Outstanding Achievement in the Art of the Medal from the American Numismatic Society.
Stanley died on August 11, 1977, in Washington, CT.
*The National Art Museum of Sport was a touring collection in 1963; it became permanently housed in NYC in 1968, and later in New Haven. It eventually moved to Indianapolis. The collection was acquired by the Children's Museum of Indianapolis in 2017, and is currently [2020] on display there.
Sources:
1934 article in the Billings Gazette (MT) re his sculpture
https://www.newspapers.com/image/411158873/?terms=stanley%2Bmartineau
1934 article in Great Falls Tribune (MT) re his sculpture
https://www.newspapers.com/image/238222485/?terms=stanley%2Bmartineau
1940 article in the Montreal Gazette (Quebec, Canada) with biographical details
https://www.newspapers.com/image/419356017/?terms=stanley%2Bmartineau
1940 Draft Registration
https://search.ancestry.com/cgi-bin/sse.dll?indiv=1&dbid=2238&h=195080360&tid=&pid=&queryId=4306ef556fd2f3a57605b6e4fbf57805&usePUB=true&_phsrc=xwG2&_phstart=successSource
1941 NY Daily News article about his marriage
https://www.newspapers.com/image/432600449/?terms=stanley%2Bmartineau
1941 Declaration of Intention re Citizenship
https://www.ancestry.com/imageviewer/collections/2280/images/47294_302022005557_0672-00903?treeid=&personid=&hintid=&queryId=1a2132941e35040f2c58371dc69a7747&usePUB=true&_phsrc=QkR1&_phstart=successSource&usePUBJs=true&_ga=2.217524758.1664329557.1603325075-383347833.1603325075&pId=6763343
1942 Enlistment Record
https://search.ancestry.com/cgi-bin/sse.dll?indiv=1&dbid=8939&h=7339765&tid=&pid=&queryId=4306ef556fd2f3a57605b6e4fbf57805&usePUB=true&_phsrc=xwG3&_phstart=successSource
1943 article in Lansing State Journal (MI) re Martineau's sculpture of FDR
https://www.newspapers.com/image/206540244/?terms=stanley%2Bf%2Bmartineau
1943 NY Daily News article re Stanley's wife's trust fund family
https://www.newspapers.com/image/434873062/?terms=stanley%2Bmartineau
1943 Maryland Federal Naturalization Record
https://www.ancestry.com/imageviewer/collections/61200/images/47293_302022005448_1948-00376?treeid=&personid=&hintid=&queryId=1a2132941e35040f2c58371dc69a7747&usePUB=true&_phsrc=QkR4&_phstart=successSource&usePUBJs=true&_ga=2.52250281.1664329557.1603325075-383347833.1603325075&pId=77738
1943 WW2 Hospital Admission Files
https://search.ancestry.com/cgi-bin/sse.dll?indiv=1&dbid=61817&h=1135671&tid=&pid=&queryId=4306ef556fd2f3a57605b6e4fbf57805&usePUB=true&_phsrc=xwG4&_phstart=successSource
1945 shipboard record Antwerp to NYC
https://search.ancestry.com/cgi-bin/sse.dll?indiv=1&dbid=7488&h=3020263181&tid=&pid=&queryId=34bcc7b7319838f734d826cfaad6c8be&usePUB=true&_phsrc=RoW3&_phstart=successSource
1949 article in NY Daily News re Martineau
https://www.newspapers.com/image/415480234/?terms=stanley%2Bmartineau
1951 article in Meriden Record Journal (CT) re his sculpture of Alexander Graham Bell
https://www.newspapers.com/image/677134979/?terms=stanley%2Bmartineau
1963 article in Meriden Record Journal (CT) re his sculpture of Bob Cousy
https://www.newspapers.com/image/674849347/?terms=stanley%2Bmartineau
1963 article by Bud Collins re the Cousy sculpture
https://www.genealogybank.com/doc/newspapers/image/v2%3A1386BF60B4F67060%40GB3NEWS-14060526AA83244A%402438349-1405FC793B4B3D7E%4036-1405FC793B4B3D7E%40?h=2&fname=stanley&lname=martineau&fullname=&rgfromDate=1915&rgtoDate=1977&formDate=&formDateFlex=exact&dateType=range&kwinc=&kwexc=&sid=ojrcsnxjctysfrmbukuyhzbmqoguxvtr_wma-gateway012_1603557044360
1963 photo of Bob Cousy with Martineau's sculpture
https://www.gettyimages.fi/detail/news-photo/boston-college-basketball-coach-bob-cousy-views-a-statue-of-news-photo/686885412
1977 Connecticut Death Index
https://search.ancestry.com/cgi-bin/sse.dll?indiv=1&dbid=4124&h=697971&tid=&pid=&queryId=8209ee1afa93c8362ba601694f3473b3&usePUB=true&_phsrc=QkR6&_phstart=successSource
1993 New York Times article about his wife's death
https://www.nytimes.com/1993/08/20/obituaries/f-b-martineau-81-worked-with-charities.html
2021 article in the Santa Fe New Mexican about Roy Eichhorn's presentation at the New Mexico Military Museum in Santa Fe
https://www.santafenewmexican.com/pasatiempo/art/art-artifice-and-the-ghost-army/article_5fce7d88-f557-11eb-8cba-8b33c686734d.html?utm_source=santafenewmexican.com&utm_campaign=%2Fnewsletters%2Fpasatiempo%2F%3F123%26-dc%3D1628857809&utm_medium=email&utm_content=read%20more