William Joseph Marsalko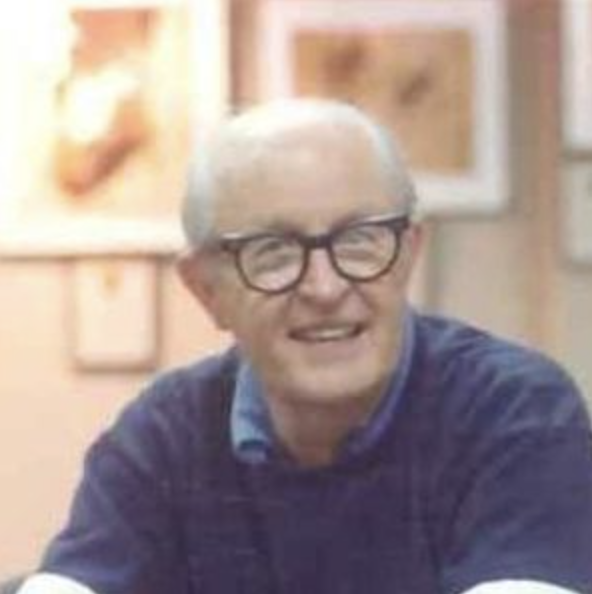 603rd Engineer Camouflage Bn : Co D
ASN#35068640 Casualty: Wounded
Born 1923 in OH, Died 2012
Artist
County of residence at enlistment: Cuyahoga County, OH
Other residence(s): Cleveland, OH; Westlake, OH
United States Army, European Theatre of Operations
Source: Notes provided by family of Harold Dahl; Rick Beyer; Bernie Mason Company D Roster; photo from 2012 obituary
Bill Marsalko was born on December 20, 1923 in Cleveland, OH, the middle of three children. His parents and his older sister had all been born in Czechoslovakia; his father found work as a tailor after the family came to the US.
Bill attended West Technical High School, a career prep school in Cleveland; he also took some classes at the Cleveland Institute of Art. He won first prize in pen drawing at the northeastern Ohio regional exhibition of scholastic art in 1943, and had set his sights on becoming a cartoonist before the war intervened.
He registered for the draft on June 26, 1942, and enlisted on July 5, 1943. Like other art students, he found his way into the 603rd Engineer Camouflage Battalion, and served in Europe with the unit.
He sustained a serious shell wound on March 13, 1944 in Operation Bouzonville, and spent three years recuperating from his wounds. A newspaper article in September, 1945 shows him as a patient at Kennedy General Hospital in Memphis, TN, playing the violin for another patient. He spent those three years drawing and sketching.
After his healing was complete, he was discharged from the Army in 1947 and returned to Cleveland, where he used the work he'd done in army hospitals to get a job as a commercial illustrator with Manning Studios.
In the early 1950s he married Rita Mallett; they would go on to have six children: Michael, Nancy, David, Donna, Laura, and Bill Jr.
Bill continued to create his own artwork during his years as a commercial artist. He exhibited four western-themed works at the Cleveland Museum of Art in 1953. A 1966 article in the Cleveland Plain Dealer describes a collaboration between Bill and Manning Studios colleague, photographer Clint Morine. On selected Saturday mornings, they'd load Bill's paintings into the car and drive around looking for picturesque settings in which to photograph them. One of these photographs landed on the front cover of the Plain Dealer's Sunday Magazine.
After Bill retired, he exercised his lifelong fascination with aviation and began creating images of airplanes in World War I. A 2014 article on the cleveland.com website says that he used "colored inks, tempera, and watercolors to create extremely detailed images depicting the war's great air battles and airplanes. His compilations of pilots' achievements during the war are a history lesson in themselves." Some of these works include: "Rickenbacker's Medal of Honor," "Over the Front," "Christiansen, The Fighter of Zeebrugge," and "Richthofen's Last Victory."
Bill belonged to the American Society of Aviation Artists and the World War I Aviation Historians. He won many awards, including several from the Experimental Aircraft Association in 1988, 1993, and 1996. His World War I aviation artwork hangs in the Pentagon, the US Air Force Museum in Dayton, and in private collections including that of film director Peter Jackson. He continued to produce this work well into his 80s.
He died on February 10, 2012 and is buried at St. Joseph's Cemetery in Avon, Ohio.
Photo:
Mature adult photo with obituary (link below); clipping attached
Sources:
1930 census
https://www.ancestry.com/discoveryui-content/view/74158626:6224?tid=&pid=&queryId=4c7216ff0277005e70c3967e53fadac9&_phsrc=FBX1&_phstart=successSource
1940 census
https://www.ancestry.com/discoveryui-content/view/30658032:2442?tid=&pid=&queryId=4c7216ff0277005e70c3967e53fadac9&_phsrc=xfz4&_phstart=successSource
1942 draft card
https://www.ancestry.com/discoveryui-content/view/200621258:2238?tid=&pid=&queryId=905df659405fc537c968951013eb90d7&_phsrc=xfz2&_phstart=successSource
1943 article in the Cleveland Plain Dealer (OH) about an art award he won in high school
https://www.genealogybank.com/doc/newspapers/image/v2%3A122AFBBA107AC9E4%40GB3NEWS-126D61B21C5ED389%402430796-1267BFEBCF60C1FB%4012-1267BFEBCF60C1FB%40?h=16&fname=william&lname=marsalko&fullname=&rgfromDate=&rgtoDate=&formDate=&formDateFlex=exact&dateType=range&kwinc=&kwexc=&page=1&sid=jrnumkshhwgdbpcjtydstqszhaukzjlq_wma-gateway001_1636509520280
1943 enlistment record
https://search.ancestry.com/cgi-bin/sse.dll?indiv=1&dbid=8939&h=7306113&tid=&pid=&queryId=75a30185d05a16a0ee2e7f307fa1eb7d&usePUB=true&_phsrc=YIW20&_phstart=successSource
1945 article in the Cleveland Plain Dealer (OH) indicating he had been wounded in Germany
https://www.genealogybank.com/doc/newspapers/image/v2%3A122AFBBA107AC9E4%40GB3NEWS-126A13AB52DBA3C1%402431554-1268B076E3C04CD1%4010-1268B076E3C04CD1%40?h=4&fname=william&lname=marsalko&fullname=&rgfromDate=&rgtoDate=&formDate=&formDateFlex=exact&dateType=range&kwinc=&kwexc=&sid=jrnumkshhwgdbpcjtydstqszhaukzjlq_wma-gateway001_1636509520280
1945 article in the Cleveland Plain Dealer (OH) with photo of him in a Memphis hospital
https://www.genealogybank.com/doc/newspapers/image/v2%3A122AFBBA107AC9E4%40GB3NEWS-126DB0625257E580%402431704-1268B06FC6FB49CD%4019-1268B06FC6FB49CD%40?h=17&fname=william&lname=marsalko&fullname=&rgfromDate=&rgtoDate=&formDate=&formDateFlex=exact&dateType=range&kwinc=&kwexc=&page=1&sid=jrnumkshhwgdbpcjtydstqszhaukzjlq_wma-gateway001_1636509520280
1950-1952 marriage record
https://search.ancestry.com/cgi-bin/sse.dll?indiv=1&dbid=1876&h=625724&tid=&pid=&queryId=f3ebec7fca4b9c971ef105dcd89d380e&usePUB=true&_phsrc=FBX8&_phstart=successSource
1950-1993 US Public Records index
https://www.ancestry.com/discoveryui-content/view/289413114:1788?tid=&pid=&queryId=aefd5206cd52a5edd9126a6e69cba33e&_phsrc=FBX22&_phstart=successSource
1953 exhibit card from show at Cleveland Museum of Art
https://archive.org/details/CMAMS09993
1966 article in the Cleveland Plain Dealer (OH) about his art with some biographical details
https://www.genealogybank.com/doc/newspapers/image/v2%3A122AFBBA107AC9E4%40GB3NEWS-12B9CB04E501928D%402439317-12B9CA844CD3C780%40219?fname=william&lname=marsalko&fullname=&rgfromDate=&rgtoDate=&formDate=&formDateFlex=exact&dateType=range&kwinc=&kwexc=&sid=jrnumkshhwgdbpcjtydstqszhaukzjlq_wma-gateway001_1636509520280
1989 article in the Newark Advocate (OH) re an exhibit of his work
https://www.newspapers.com/image/287431219/?terms=Bill%20marsalko&match=1
1993 article in the Oshkosh Northwestern (WI) re an award he won for a painting
https://www.newspapers.com/image/246507832/?terms=Bill%20marsalko&match=1
1998 article in the Cincinnati Enquirer (OH) re an exhibit of his work
https://www.newspapers.com/image/102257594/?terms=Bill%20marsalko&match=1
2012 Ohio death record
https://www.ancestry.com/discoveryui-content/view/9463069:5763?tid=&pid=&queryId=faf8e5ea1e4cda88bd6f96b89cd381b3&_phsrc=YIW23&_phstart=successSource
2012 Find a Grave record
https://www.findagrave.com/memorial/117769204/william-j.-marsalko
2012 obituary
http://buschfuneral.tributes.com/condolences/view_memories/93217381#173566625
2014 article on the Cleveland.com website re an exhibit of his work
https://www.cleveland.com/avon-lake/2014/08/cleveland_artists_work_display.html