Murphy Patrick Martin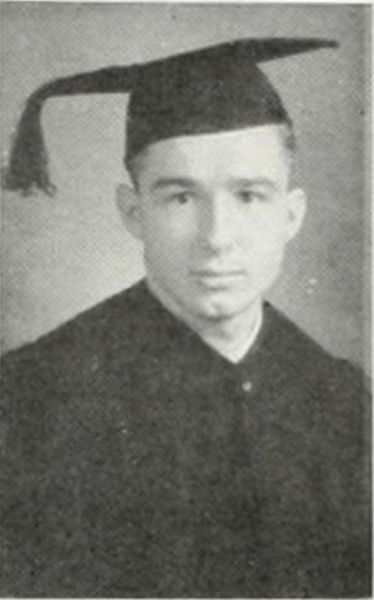 CPT in 23rd Headquarters Co
ASN#493411
Born 1913 in LA, Died 1998
Other residence(s): St. Martinsville, LA
United States Army, European Theatre of Operations
Occupation before the war: physician
College education before the war: Univ. of Southwestern Louisiana; LSU; Tulane
Notes: This ASN assigned to Oittzau J Smith
Source: Roster of 23d HQ officers, from family of Oscar Seale; Pine Camp roster, 18 Dec 1945; photo from 1935 college yearbook
Murphy Martin was born on November 2, 1913 in St. Martinville, LA. His Martin Nova Scotia ancestors had been among the first wave of Acadian settlers in Louisiana in the late 1760s, and St. Martinville is considered to be the birthplace of Cajun culture.
His father owned a plantation and operated a sawmill, and was the long-time sheriff of St. Martin parish. Murphy was one of four children, and grew up in what the Louisiana State Archives website (in reference to Murphy's brother) calls "the frenetic and colorful worlds of Acadiana and state politics."
He received a B.S. from Southwestern Louisiana Institute (now the University of Louisiana, Lafayette) in 1935 and his medical degree from LSU Medical School in New Orleans.
When he filled out his draft registration on October 16, 1940, he was living in Thibodaux, LA and working for the Bureau of Parish Health Administration. Two months later he married Shirley Jo Barra.
Murphy's enlistment date in the Army is unknown, but he served as a medical officer with the rank of CPT in the Ghost Army in the European Theatre.
After the war he had a private practice in Lafayette, LA for a short time, but by 1948 had chosen to pursue a career in public health. He was Director of the Health Units in several different parishes over his career—including St. Mary, Iberia, St. Martin, and Lafayette. In 1950 (and possibly in other years as well) he also served as President of the Louisiana Health Officers Association. In or about 1951, he interrupted his work to pursue a Master's degree in Public Health from Tulane, and then went back to the parishes.
Among the public health issues he pursued over the years were tuberculosis/chest X-rays, smoking, milk processing/adulteration, polio and diphtheria clinics, measles campaigns, the importance of blood tests, health violations in jails, and rabies control.
Murphy and Shirley had six children: Carole, Jeanne, Leslie, Joan, Murphy Patrick "Pat" Jr., and Barry.
After Murphy retired from his public health work, he worked as a part-time clinician for different Acadiana parishes until his second retirement in 1994 at the age of 81.
He died on September 18, 1998 in St. Martinville, and is buried at St. Michael Cemetery there.
NOTES ON FAMILY: Dr. Martin's brother, Wade O. Martin, Jr., received a law degree and served as the Secretary of State in Louisiana for 32 years—from 1944-1976. He was a colleague and friend of Senator and Governor Huey Long, and the auditorium in the Louisiana State Archives Building is named for him.
Dr. Martin's grandson, Murphy P. Martin III (aka "Trey"), is an orthopaedic trauma surgeon in New Orleans, carrying on his grandfather's medical legacy.
Photo:
1935 college yearbook photo
https://www.ancestry.com/imageviewer/collections/1265/images/1265_b921786-00035?usePUB=true&_phsrc=MDJ8&_phstart=successSource&usePUBJs=true&pId=1378759303
1967 in Teche News (St.Martinville, LA)
https://www.newspapers.com/image/473973129/?terms=Murphy%20p%20martin&match=1
Sources:
1940 draft card
https://search.ancestry.com/cgi-bin/sse.dll?indiv=1&dbid=2238&h=5031482&ssrc=pt&tid=120066109&pid=150196410307&usePUB=true
1940 marriage record
https://www.ancestry.com/discoveryui-content/view/82885364:62116?indiv=1&tid=&pid=&queryId=a3315ab482a4b528218fc0087dee2236&usePUB=true&_phsrc=MDJ7&_phstart=successSource
1976 article (looking back to 1951) in Teche News (St.Martinville, LA) re his M. P. H. degree
https://www.newspapers.com/image/473972959/?terms=Murphy%20p%20martin&match=1
1998 obituary in The Daily Advertiser (Lafayette, LA)
https://www.newspapers.com/image/538873587/?terms=Murphy%20p%20martin&match=1
1998 Find a Grave record
https://www.findagrave.com/memorial/144514677/murphy-patrick-martin
1998 Social Security Applications and Claims Index
https://www.ancestry.com/discoveryui-content/view/27735314:60901?indiv=1&tid=&pid=&queryId=cebc7e0d676d80b5b94037a2afc3d0cb&usePUB=true&_phsrc=SeJ1&_phstart=successSource