Octavio Joseph Martino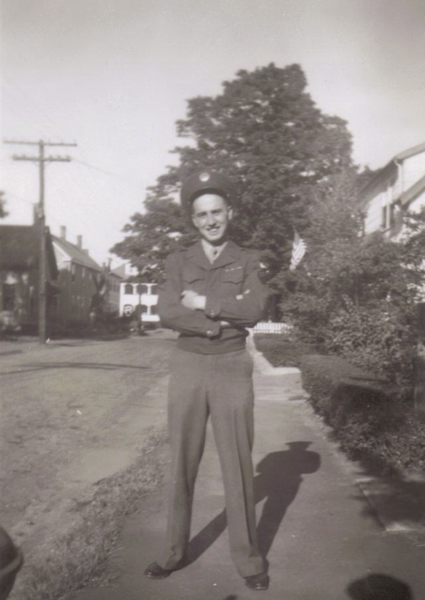 T/5 in Signal Co, Special : Radio C
Military occupational specialty: 776 (radio operator, low speed)
ASN#31225788
Born 1921 in MA, Died 1993
County of residence at enlistment: Suffolk County, MA
Other residence(s): Dorchester, MA; Quincy, MA; Braintree, MA
United States Army, European Theatre of Operations
Occupation before the war: clerks, general office
College education before the war: Bentley Univ. 3 years
College education after the war: Boston College
Octavio "Joe" Martino was born on February 9, 1921 in Boston MA, the middle of three children; both of his parents and his older sister had been born in Italy.
The family lived in the Bowdoin St. area of Dorchester; Joe's father worked in a barber shop. As a young man he worked with the Civilian Conservation Corps in the Blue Hills. After graduating from Roxbury Memorial High School, he pursued studies at the Bentley School of Accounting in Boston (now Bentley University) and also worked as a statistical accountant at the Coca-Cola Bottling Company in Quincy. He registered for the draft on February 15, 1942, a few months before receiving his diploma in accounting and finance from Bentley; he enlisted on October 22, 1942.
Joe was sent to Radio Operators' School at Fort Knox where he learned Morse code, radio procedures, and cryptography. He was assigned to the Signal Company Special and went to Europe with the unit.
After returning to the US, he married Marjorie Frances Costa on July 30, 1945. He was discharged from the Army on October 22, 1945 with the rank of T/5 and the couple settled in Quincy, MA before moving to Braintree where they would remain.
Joe returned to his work at Coca-Cola and later worked as a cost estimator with the Armstrong Cork Company in Braintree. Starting in 1958 he pursued a degree in industrial management at Boston College's night school, graduating summa cum laude in 1962. A Boston Record American article from the time shows an image of Joe, Marjorie, and their seven children aged 15 years to 4 months. "The older children kept the younger ones quiet while I was studying," he is quoted as saying. "I guess they were pretty proud that their father was going to college." Joe and Marjorie would have one more child after his graduation, leaving them with a family of eight children: William, John, Judi, Mary, David, Joseph, Terri, and Timothy.
Eventually he moved to Stone & Webster, an engineering firm, where he worked until he retired in 1987. His role at the company was in improving internal efficiency.
Joe was head usher, a Confraternity of Christian Doctrine (CCD) teacher, and a Eucharistic Minister at the Church of St. Clare in Braintree. In the late 1950s and early 1960s he was a Scoutmaster at St. Francis of Assisi Church in South Braintree. He was also a member of the Knights of Columbus.
His obituary in the Quincy Patriot Ledger says that, as "a talented woodworker, he made bedroom sets, including beds, bureaus, and night tables, for his family. Working out of his home shop, he also made hutches, cabinets, and desks [and] many sets of custom cabinets for neighbors." His son, John, also reports that for many years he made cradles for My Brother's Keeper, a local charity organization that distributes furniture and food to families in need.
His hobbies included chess, pinochle, and playing the organ. He was an avid reader with a special interest in material on the Civil War.
Joe died on May 6, 1993 and is buried at St. Mary's Cemetery in Randolph, MA.
Photo:
in uniform from ancestry.com family tree
https://www.ancestry.com/mediaui-viewer/collection/1030/tree/15362142/person/2016621701/media/91999ba8-278a-498f-b221-4609e872a31e?_phsrc=VDO7&usePUBJs=true&galleryindex=2&sort=-created
Sources:
1930 census
https://www.ancestry.com/discoveryui-content/view/20456910:6224?tid=&pid=&queryId=ce92fa96b5687f7d2d0be4678e28b0ef&_phsrc=VDO9&_phstart=successSource
1938 Boston Globe article about his high school graduation
https://www.newspapers.com/image/431708544/?terms=octavio%20j%20martino&match=1
1940 census
https://www.ancestry.com/discoveryui-content/view/95449970:2442?tid=&pid=&queryId=ce92fa96b5687f7d2d0be4678e28b0ef&_phsrc=VDO10&_phstart=successSource
1942 draft card
https://www.ancestry.com/discoveryui-content/view/195832835:2238?tid=&pid=&queryId=7337526debdea964903c3a72fea895b7&_phsrc=VDO1&_phstart=successSource
1942 enlistment record
https://www.ancestry.com/discoveryui-content/view/7346703:8939?tid=&pid=&queryId=7337526debdea964903c3a72fea895b7&_phsrc=VDO2&_phstart=successSource
1943 article in the Boston Traveler about his military work
https://www.genealogybank.com/doc/newspapers/image/v2%3A1386C0C443F95A4A%40GB3NEWS-1448F04091064172%402430789-144792223A847CFA%4027-144792223A847CFA%40?h=62&fname=octavio&lname=martino&fullname=&rgfromDate=1938&rgtoDate=1993&formDate=&formDateFlex=exact&dateType=range&kwinc=&kwexc=&page=4&sid=yvuuwdvatgvcycdlfsksodjlzjeijpej_wma-gateway009_1654975640941
1962 Boston College yearbook
https://www.ancestry.com/discoveryui-content/view/158778734:1265?ssrc=pt&tid=15362142&pid=2016621701
1962 article in the Boston Record American re his college graduation
https://www.genealogybank.com/doc/newspapers/image/v2%3A1386C09D6C6D2F8A%40GB3NEWS-1426B0164A2516CB%402437825-1426A5E8AF547654%404-1426A5E8AF547654%40?h=4&fname=octavio&lname=martino&fullname=&rgfromDate=1938&rgtoDate=1993&formDate=&formDateFlex=exact&dateType=range&kwinc=&kwexc=&sid=yvuuwdvatgvcycdlfsksodjlzjeijpej_wma-gateway009_1654975640941
1993 Massachusetts death record
https://www.ancestry.com/discoveryui-content/view/1296605:7457?tid=&pid=&queryId=7337526debdea964903c3a72fea895b7&_phsrc=VDO3&_phstart=successSource
1993 Social Security death index
https://search.ancestry.com/cgi-bin/sse.dll?indiv=1&dbid=3693&h=39450580&ssrc=pt&tid=15362142&pid=2016621701&usePUB=true&_gl=1*18sua5a*_ga*OTUxMjIyNDkyLjE2NTQ2MzU0ODE.*_ga_4QT8FMEX30*MTY1NDk3NDEyNC42LjEuMTY1NDk3NDc3NC4w
1993 obituary in the Quincy Patriot Ledger (MA)
https://www.genealogybank.com/doc/newspapers/image/v2%3A13D0955A0C88E671%40GB3NEWS-16E82E33F3CDD6D8%402449116-16E82A44073C3FE2%4050-16E82A44073C3FE2%40?h=1&fname=octavio&lname=martino&fullname=&rgfromDate=1938&rgtoDate=1993&formDate=&formDateFlex=exact&dateType=range&kwinc=&kwexc=&sid=yvuuwdvatgvcycdlfsksodjlzjeijpej_wma-gateway009_1654975640941
2022 (May 31) GALP Veteran Biography Worksheet from son John Martino