Thomas Haney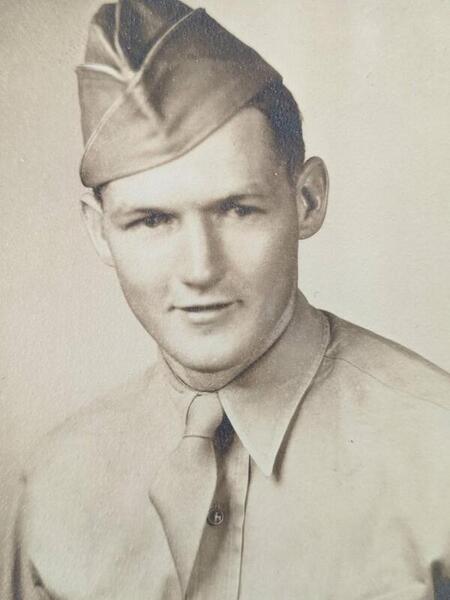 T/5 in 406th Engineer Combat Co
Military occupational specialty: 242 (toolroom keeper)
ASN#32754185
Born 1920 in PA, Died 1982
County of residence at enlistment: Camden County, NJ
Other residence(s): Philadelphia, PA; Gloucester City, NJ; Bellmawr, NJ; Magnolia, NJ
United States Army, European Theatre of Operations
Occupation before the war: checker at a container company
Notes: Certificate of Merit; CG SP TRS, 12th A Gp, 15 Dec 44. Meritorious Service: Tool Room Keeper, France, 14 Jun-11 Jul 44
Tom Haney was born on January 24, 1920 in Philadelphia, PA, the third of four children. His father was a house painter; the family moved to Gloucester City, NJ sometime before 1930. Tom graduated from high school there and got a job as a chemical helper.
When he registered for the draft, on July 1, 1941, he was working as a checker at Kieckhefer Container Co. in Delair, NJ.
Tom was one of 15 young men from Gloucester City who enlisted in the Army between March 15-22, 1943. On March 25, they found themselves on a train headed to Camp Gordon, Georgia. There they would join the newly activated 293rd Engineer Combat Battalion, and be assigned to Company A. That spring and summer they trained in Georgia and Tennessee, and that fall boarded a train for Camp Pilot Knob, aka the Desert Training Center, five miles from Yuma, Arizona (just inside the California border). In mid-January 1944, the commander of the 293rd received an order to detach his best company for a secret mission. He selected Company A, and by January 30, 1944 the men were back in Tennessee. On April 7, 1944, Company A of the 293rd was officially reassigned and renamed as the 406th Engineer Combat Company, and the unit boarded a ship to England in early May.
Tom was one of four "demolition men" (along with fellow Gloucester city resident Charles Gorman) selected to accompany Lt. Bernie Mason into France on June 14, 1944. The job of the demolition men was to operate an improvised flash device which was intended to simulate the flash of a "Long Tom." Their mission lasted 28 days. They were among the first Ghost Army men to arrive in Normandy, and T/5 Haney received a Certificate of Merit for his participation in the operation.
After their service in the Ghost Army all 15 men returned to the states. They were feted on July 14, 1945 by the Third Ward Regular Democratic Club while back in Gloucester City on 30-day furloughs. Tom was discharged on September 2, 1945 and returned home to New Jersey.
He married Agnes B. Torpey in the mid-1940s, and they became the parents of three daughters: Maureen, Judith, and Suzanne. In 1950, the Haneys were living in Bellmawr, NJ and Thomas was working as a chemist assistant in an explosives plant.
Nothing else is known of his life or work. He died on March 6, 1982 when he was living in Magnolia, NJ.
Sources:
1930 census
https://www.ancestry.com/discoveryui-content/view/22136944:6224?ssrc=pt&tid=24237790&pid=162177024144
1940 census
https://www.ancestry.com/discoveryui-content/view/132820727:2442?ssrc=pt&tid=24237790&pid=162177024144
1941 draft card
https://www.ancestry.com/discoveryui-content/view/301823882:2238?ssrc=pt&tid=24237790&pid=162177024144
1943 article in the Morning Post (Camden, NJ) about him and 14 other Gloucester veterans of the 406th Engineers—all of them (plus others from the area) were being sent to Fort Dix for training
https://www.newspapers.com/image/479507931/?terms=alfred%20daubert&match=1
1945 article in the Morning Post (Camden, NJ) about him and 15 other Gloucester veterans of the 406th Engineers
https://www.newspapers.com/image/447898575/?terms=alfred%20daubert&match=1
1950 census
https://www.ancestry.com/discoveryui-content/view/169164319:62308?tid=&pid=&queryId=0dd77db1f02081e275950ff48a4516a9&_phsrc=TYt1&_phstart=successSource
1982 VA death record
https://www.ancestry.com/discoveryui-content/view/6224553:2441?ssrc=pt&tid=24237790&pid=162177024144
1982 Social Security death index
https://www.ancestry.com/discoveryui-content/view/25253150:3693?tid=&pid=&queryId=b3d5bd33cd65cb9f3880c4dc3654c834&_phsrc=TYt2&_phstart=successSource
406th Unit History Compiled