Charles Philip "Phil" Hornthal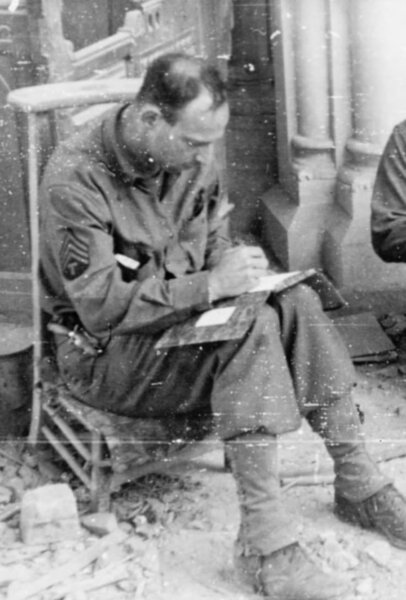 T/4 in 603rd Engineer Camouflage Bn : Co C
ASN#12125443
Born 1908 in VA, Died 1989
Artist
County of residence at enlistment: New Kent County, VA
Other residence(s): Norfolk, VA
United States Army, European Theatre of Operations
Occupation before the war: decorators and window dressers
Notes: Phil in handwritten roster; rank changed from PVT in GA Roster to T/4 per New York Area Leave List; top drawer aristocrat
Source: 603rd Camouflage Engineer Roster provided by W. Anderson; Comment by Howard Holt; 603rd Company C handwritten roster; Company C roster; photo from Ghost Army Facebook page
Phil Hornthal was born on January 12, 1908 in Norfolk, VA. He was the second child of his parents' marriage; his father, a wealthy shoe merchant who had been born in Germany, had four adult children from his first marriage, and had remarried after his first wife died. Phil grew up in a brick and stone turn of the century house that's now earmarked as part of the Ghent Historic District in Norfolk. His father died when he was four years old.
Phil graduated from high school and likely attended college for a couple of years. In 1927-1928 he was working as a clerk at the Family Fairfax Laundry in Norfolk. His mother and older sister were not there; it's possible they had already moved to New York City since the 1930 census shows all three of them living in a Greenwich Village apartment. Phil's mother had returned to Norfolk by 1932, and his sister married and moved away, but Phil stayed on in Greenwich Village, recording his profession as artist.
In the 1940 census, his occupation is listed as "theatrical displays." When he registered for the draft, on October 16, 1940, he was working at King Display in Manhattan. He was still working as a display artist on August 11, 1942 when he enlisted in the Army. Like many other New York City artists, he was assigned to the 603rd Engineer Camouflage Battalion and went to Europe with the unit. In their first few days in France, fellow artist John Hapgood recalls hiding with him under a railroad car with German shells crashing all around them.
Like other artists in the unit, he did his share of down-time sketching. There is a photograph in The Ghost Army of World War II by Beyer and Sayles that shows him with pad and pen in a bombed-out church in Trévières, France.
After the war he returned to New York. Records show him sailing to and from Europe several times in the 1950s.
By 1963 he was back in Norfolk, living in an elegant and handsomely furnished row house that was the site of several house tours.
He died on June 6, 1989 of heart failure and is buried in the Jewish lot at Forest Lawn Cemetery in Norfolk.
Photo:
There is a photo of him on the Ghost Army Facebook page (upper right).
https://www.facebook.com/TheGhostArmyofWWII/posts/10157152008676330
Sources:
1910 census
https://www.ancestry.com/family-tree/person/tree/56061305/person/412032740922/facts
1920 census
https://www.ancestry.com/discoveryui-content/view/55622550:6061?tid=&pid=&queryId=faff6af720fd50b8b8025359f0d0baa7&_phsrc=Nuu6&_phstart=successSource
1930 census
https://www.ancestry.com/discoveryui-content/view/41857462:6224?tid=&pid=&queryId=b8065475eedeeb9ebfac03e2001ea4f9&_phsrc=qRt6&_phstart=successSource
1940 census
https://www.ancestry.com/discoveryui-content/view/11482902:2442?tid=&pid=&queryId=59c0df18340855fd9b211d57733dbd49&_phsrc=eUS4&_phstart=successSource
1940 draft card
https://www.ancestry.com/discoveryui-content/view/195248196:2238?tid=&pid=&queryId=80d0835c498850ca01948c105c99f7bc&_phsrc=Nuu5&_phstart=successSource
1942 enlistment record
https://search.ancestry.com/cgi-bin/sse.dll?indiv=1&dbid=8939&h=6099249&tid=&pid=&queryId=80d0835c498850ca01948c105c99f7bc&usePUB=true&_phsrc=Nuu1&_phstart=successSource
1944 World War II hospital admission files
https://search.ancestry.com/cgi-bin/sse.dll?indiv=1&dbid=61817&h=14999998&tid=&pid=&queryId=33dff188b102135e093ecf724eb68a7d&usePUB=true&_phsrc=qRt4&_phstart=successSource
1950 shipboard manifest LeHavre France to Hoboken NJ
https://search.ancestry.com/cgi-bin/sse.dll?indiv=1&dbid=7488&h=3025886154&tid=&pid=&queryId=80d0835c498850ca01948c105c99f7bc&usePUB=true&_phsrc=Nuu3&_phstart=successSource
1954 shipboard manifest Southampton England to NYC
https://search.ancestry.com/cgi-bin/sse.dll?indiv=1&dbid=7488&h=3031714552&tid=&pid=&queryId=faff6af720fd50b8b8025359f0d0baa7&usePUB=true&_phsrc=Nuu6&_phstart=successSource
1954 shipboard manifest Southampton England to NYC
https://search.ancestry.com/cgi-bin/sse.dll?indiv=1&dbid=2997&h=138291148&tid=&pid=&queryId=faff6af720fd50b8b8025359f0d0baa7&usePUB=true&_phsrc=Nuu6&_phstart=successSource
1963 article in Virginian Pilot (Norfolk VA) re a house tour that included his house
https://www.genealogybank.com/doc/newspapers/image/v2:146D908D09F2E7FE@GB3NEWS-152FEEB65CA82936@2438150-152FA59B4874D3C4@5-152FA59B4874D3C4@?h=2&fname=philip&lname=hornthal&fullname=&kwinc=&kwexc=&rgfromDate=&rgtoDate=&formDate=&formDateFlex=exact&dateType=range&processingtime=&addedFrom=&addedTo=&sid=qurwxyyulgrigxwtmnsfgsmdbunyiwgu_wma-gateway004_1630451096987
1973 Social Security applications and claims index (retired that year)
https://www.ancestry.com/discoveryui-content/view/55622550:6061?tid=&pid=&queryId=faff6af720fd50b8b8025359f0d0baa7&_phsrc=Nuu6&_phstart=successSource
1989 Social Security death index
https://search.ancestry.com/cgi-bin/sse.dll?indiv=1&dbid=3693&h=28738719&tid=&pid=&queryId=faff6af720fd50b8b8025359f0d0baa7&usePUB=true&_phsrc=Nuu2&_phstart=successSource
1981-1989 US Public Record Index, Norfolk VA
https://www.ancestry.com/discoveryui-content/view/219408600:1788?ssrc=pt&tid=157964559&pid=252071058591
1989 Virginia death record
https://www.ancestry.com/family-tree/person/tree/56061305/person/412032740922/facts
1989 Find a Grave record
https://www.findagrave.com/memorial/86081820/phillip-c-hornthal