Burton Stanley Hasen
PVT in 603rd Engineer Camouflage Bn : Co C
ASN#12124721
Born 1921 in NY, Died 2007
Artist
County of residence at enlistment: New York County, NY
Other residence(s): New York City, NY
United States Army, did not accompany the unit to Europe
Occupation before the war: commercial artists
College education before the war: Art Students League
College education after the war: Art Students League; Académie de la Grande-Chaumière (Paris); Hans Hofmann School of Fine Arts
Source: 603rd Camouflage Engineer Roster provided by W. Anderson; Company C roster
Burt Hasen was born on December 19, 1921 in the Bronx, NY, the older of two children. His father, a self-described artist, had been born in Russia and his mother in Romania. His New York Sun obituary says that "an attraction to color and line ran in the family; his father was a house painter and a cousin, Irwin Hasen, was a DC Comics artist who was the co-creator of the strip 'Dondi.'" When he was 12, Burt placed third in the annual Wanamaker Drawing Competition for Greater NY school children. Later he studied at the Art Students League in New York City.
The 1940 census describes him as an artist, so when he registered for the draft on February 15, 1942, and stated that he was self-employed, it was likely still as an artist. He enlisted on August 15, 1942. Like other New York art students and artists he was assigned to the 603rd Engineer Camouflage Battalion, and he was still a part of that unit at Christmas 1943. But sometime in 1944 he was transferred to the Army Air Corps and sent to New Guinea as a military technician with a focus on the close study of aerial maps. Maps and visual references to his time in the tropics would form a regular part of his art in the decades to come. His New York Times obituary states that "his densely worked canvases often had an overhead perspective, whether they suggested an aerial view of a fantasy terrain or a bomb target. . . . Toward the end of his life, many of his seemingly abstract paintings were based directly, and in detail, on maps."
After the war he returned to the Art Students League for a time, and then spent two years studying at the Académie de la Grande-Chaumière in Paris on the GI Bill. His first solo art show was at Galerie 8 in Paris in 1950. Back in New York he hung out with abstract expressionists and studied at the Hans Hofmann School of Fine Arts. His first New York show was at the Hacker Gallery in 1952, and in 1954 he began teaching at the School of Visual Arts in New York, a position he held for 46 years.
Beginning in the late 1950s, he held frequent solo exhibitions of his work at galleries around the city. He won a Fulbright grant to study in Rome in 1959, the same year that he married Cynthia Hilsenrath.
In 1964 he was covered in a Time magazine feature on the Whitney's annual show.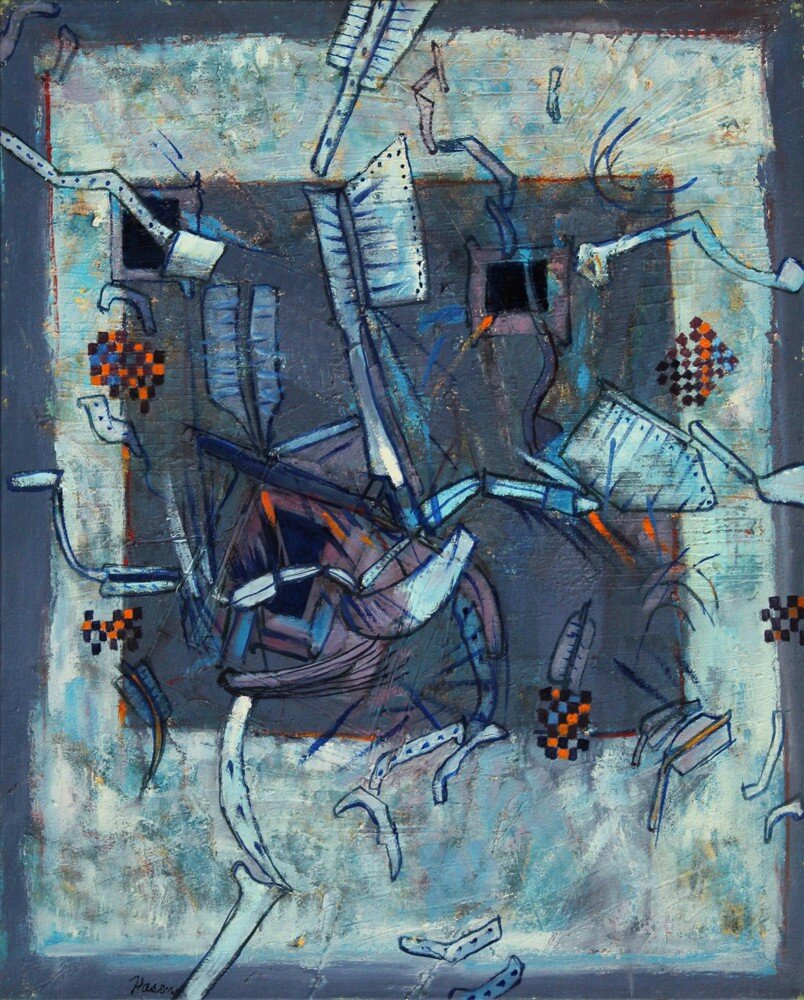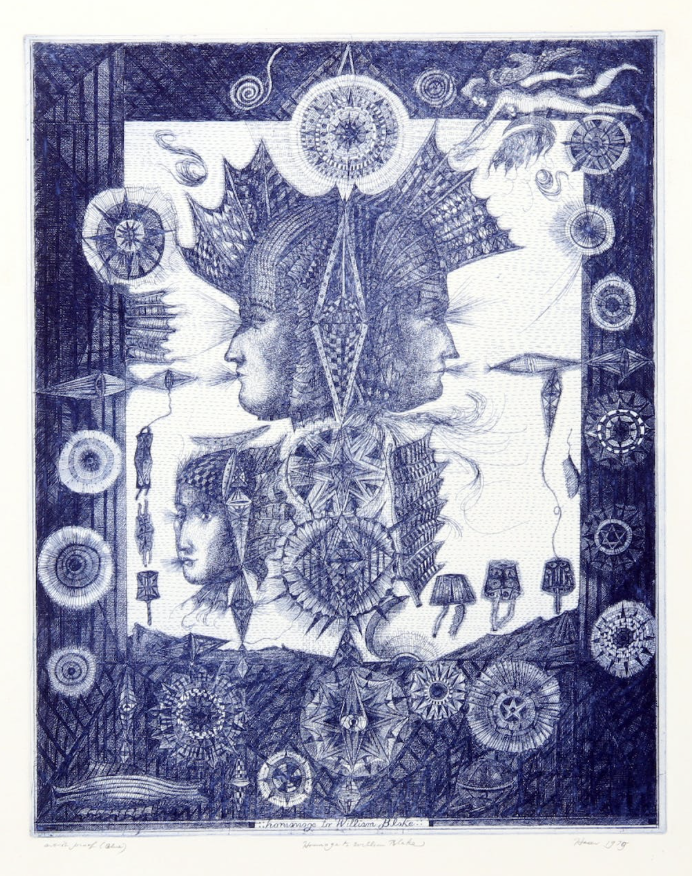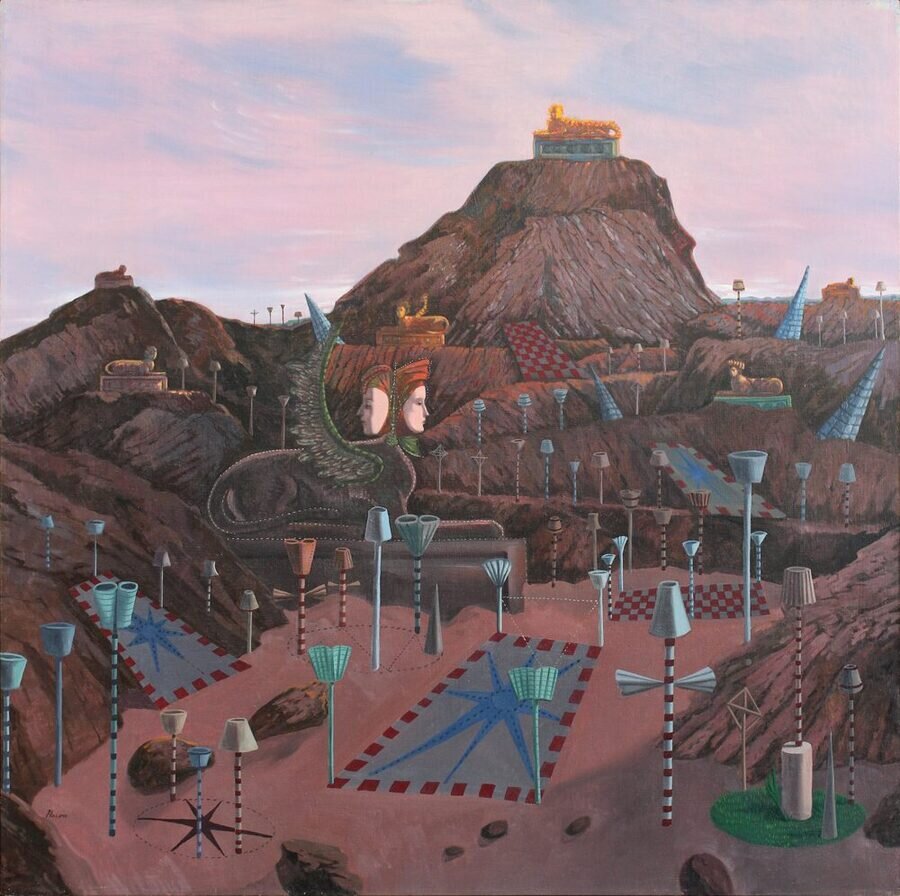 Eventually he and Cynthia divorced, and he married Mary J. Kante, also an artist, in 1983.
In 1994 he was elected to the National Academy of Design and in 2000 was a winner of the art award of the American Academy of Arts and Letters. His work was presented at a large-scale retrospective exhibition in 2003 at the Southeast Missouri Regional Museum.
His art is included in many major collections, including those of the Smithsonian, the Library of Congress, the National Academy of Design, and the British Museum. In 2017-2018 a show of his work was held at the Anita Shapolsky Gallery. (He had been represented by Shapolsky throughout most of his career.) The web writeup on the show describes his art as follows: "Burt Hasen's work teeters between magical realism and surrealism. Thematically there is a fantastical element throughout his work. This is more mysterious and alluring than dark and menacing."
Confined to a wheelchair later in life, he made the news in 2006 when he became involved in a dispute with his landlord over his studio and apartment at 7 Dutch Street, in the financial district. The landlord wanted to demolish the building, evicting him and the other four tenants of the five-story building where they had occupied rent-controlled lofts for over 30 years. "How can they be so callous?" Hasen said. "Compared to the masters of finance, artists are like little children. We live in a dream world. They live in the real world, and the real world is cash." The tenants subsequently all had their leases renewed; the building was never demolished, although several years later it was converted to condos.
Burt died on September 7, 2007 in New York City; he was survived by his wife, Mary, and a stepson, Herb.
Sources:
1921 birth record
https://search.ancestry.com/cgi-bin/sse.dll?indiv=1&dbid=61457&h=1389939&tid=&pid=&queryId=cf4741046c4ca74c0a294a0a9b2139e9&usePUB=true&_phsrc=nzW3&_phstart=successSource
1930 census
https://www.ancestry.com/discoveryui-content/view/42522401:6224?tid=&pid=&queryId=79d964ad2220022373eccbd8c8f517a1&_phsrc=nzW15&_phstart=successSource
1940 census
https://www.ancestry.com/discoveryui-content/view/5278796:2442?ssrc=pt&tid=114390970&pid=200125545297
1942 draft card
https://www.ancestry.com/discoveryui-content/view/194096421:2238?ssrc=pt&tid=114390970&pid=200125545297
1942 enlistment record
https://search.ancestry.com/cgi-bin/sse.dll?indiv=1&dbid=8939&h=5802898&tid=&pid=&queryId=cf4741046c4ca74c0a294a0a9b2139e9&usePUB=true&_phsrc=nzW1&_phstart=successSource
1948 NYC directory
https://www.ancestry.com/discoveryui-content/view/93105453:2469?tid=&pid=&queryId=cf4741046c4ca74c0a294a0a9b2139e9&_phsrc=nzW8&_phstart=successSource
1951 shipboard manifest Le Havre, France to NYC
https://search.ancestry.com/cgi-bin/sse.dll?indiv=1&dbid=7488&h=3027255479&tid=&pid=&queryId=79d964ad2220022373eccbd8c8f517a1&usePUB=true&_phsrc=nzW14&_phstart=successSource
1959 marriage record
https://www.ancestry.com/discoveryui-content/view/3664003:61406?ssrc=pt&tid=114390970&pid=200125545297
1960 shipboard manifest Naples to NYC
https://search.ancestry.com/cgi-bin/sse.dll?indiv=1&dbid=1277&h=5437169&tid=&pid=&queryId=cf4741046c4ca74c0a294a0a9b2139e9&usePUB=true&_phsrc=nzW5&_phstart=successSource
1983 marriage record
https://www.ancestry.com/discoveryui-content/view/4890224:61406?tid=&pid=&queryId=cf4741046c4ca74c0a294a0a9b2139e9&_phsrc=nzW2&_phstart=successSource
1992 US public record index
https://www.ancestry.com/discoveryui-content/view/349771451:1788?tid=&pid=&queryId=cf4741046c4ca74c0a294a0a9b2139e9&_phsrc=nzW9&_phstart=successSource
2007 Social Security death index
https://search.ancestry.com/cgi-bin/sse.dll?indiv=1&dbid=3693&h=80612981&ssrc=pt&tid=114390970&pid=200125545297&usePUB=true
2007 New York Times obituary
https://www.nytimes.com/2007/09/13/arts/design/13hasen.html
2007 New York Sun obituary
https://www.nysun.com/business/burt-hasen-85-artist-of-the-downtown-postwar-scene/62570/
2017-2018 Art show info; examples of his work and descriptions of his style
http://anitashapolskygallery.com/newsite/burt-hasen-allegories/