Hubert Sidney Yandle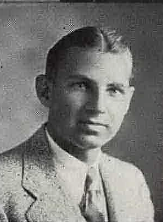 T/4 in Signal Co, Special : Radio B
Military occupational specialty: 740 (radio operator, intermediate speed)
ASN#39127548
Born 1911 in CA, Died 1960
Other residence(s): Santa Rosa, CA
United States Army, European Theatre of Operations
Hubert Yandle was born on February 20, 1911, in Santa Rosa, California, the youngest of four children. His grandfather on his father's side had been born in England, settled in Wisconsin, and moved to Santa Rosa in the late 19th century. His mother had emigrated from England to San Francisco. Hubert's grandfather was considered a pioneer in the area, setting up the first machine shop and foundry in Northern California. His father carried on the business, adding a farm implement dealership.
Hugh graduated from Santa Rosa High School in 1931. He was a starting end on his high school football team, and built like a football player--6'1" and 210 pounds when he filled out his draft form in 1940.
He attended Santa Rosa Junior College, and then went to work with his father and brothers at W.J. Yandle Implement Company. In 1935 he was a tractor mechanic, but by 1938 he was a salesman.
In 1938 he married Laura Shelly.
In 1940, Hugh's father died and he and his three siblings legally declared themselves co-partners, continuing to operate the business.
He enlisted in the army on March 23, 1943, and went to Fort Knox for basic training. Later in the summer he enrolled in the Armored School Communication Department at Fort Knox, and his wife joined him in Louisville for four months.
He was released from the Army on November 20, 1945 and came back to Santa Rosa and W. J. Yandle Company.
Hugh turned to real estate in the 1950s, becoming a full time broker in 1953 when the siblings sold their father's company. He first went into business with his brother, and then became an independent broker in 1956 operating under the name Yandle Realty.
He was very active in the community during these post-war years, serving as general chairman of farm districts for the Santa Rosa Memorial Hospital campaign, winning election as VP of the Santa Rosa Chamber of Commerce (and serving for several years on its board), actively engaging in Santa Rosa Civil Defense, and participating in Theodore Roosevelt Post #21 of the American Legion.
Sadly, Hugh shot himself to death on July 7, 1960. He was 49 years old. He had taken his wife, Laura, to dinner for her birthday the night before.
Laura was quoted in the local paper: "I knew he was terribly upset about something, but he wouldn't tell me what it was. He was despondent for about two weeks. . . . He always kept things to himself. He and I were the only ones who knew he had been seeing a doctor for about three years. He didn't tell me who the doctor was. It must have been serious."
He is buried in Calvary Catholic Cemetery in Santa Rosa. His gravestone confirms a final rank of T-4 and participation in the Signal Corps.
NOTE: His veteran's headstone application has his unit typed in as "Army Sig. Corps 110th Inf." That's crossed out, and handwritten above it is "HQ Co. 2nd. Bn. 112th Inf." Then, on the reverse of the form, it says: "Records fail to show subject served with 110th Inf. Also served as Tec 4 with Signal Co. Sp. 23rd HQ Special Troops."
Photo:
1931 Santa Rosa High School yearbook
https://search.ancestry.com/cgi-bin/sse.dll?indiv=1&dbid=1265&h=467374893&tid=&pid=&queryId=33a0a3dd35cd5c265484e4974c812d0a&usePUB=true&_phsrc=Azi21&_phstart=successSource
Sources:
1930 census
https://search.ancestry.com/cgi-bin/sse.dll?indiv=1&dbid=6224&h=93332159&ssrc=pt&tid=27987812&pid=5109511569&usePUB=true
1930 Santa Rosa HS Yearbook (football)
https://search.ancestry.com/cgi-bin/sse.dll?indiv=1&dbid=1265&h=321305436&tid=&pid=&queryId=33a0a3dd35cd5c265484e4974c812d0a&usePUB=true&_phsrc=Azi23&_phstart=successSource
1938 Santa Rosa directory
https://search.ancestry.com/cgi-bin/sse.dll?indiv=1&dbid=2469&h=216801261&tid=&pid=&queryId=951bc3d81b5354550700b75c662ae626&usePUB=true&_phsrc=TcE2&_phstart=successSource
1938 article about his marriage
https://www.newspapers.com/image/276817803/?terms=hubert%2Bs%2Byandle
1940 census
https://search.ancestry.com/cgi-bin/sse.dll?indiv=1&dbid=2442&h=72873340&ssrc=pt&tid=27987812&pid=5109511569&usePUB=true
1940 draft card
https://www.ancestry.com/imageviewer/collections/2238/images/43995_06_00120-00630?treeid=&personid=&hintid=&queryId=33a0a3dd35cd5c265484e4974c812d0a&usePUB=true&_phsrc=Azi1&_phstart=successSource&usePUBJs=true&_ga=2.160312381.1246813069.1597951967-977700585.1590688964&pId=18507959
1943 article about his enlistment in military
https://www.newspapers.com/image/265212148/?terms=hubert%2Bs%2Byandle
1943 article, more on military
https://www.newspapers.com/image/265231241/?terms=hubert%2Bs%2Byandle
1947 Santa Rosa directory
https://search.ancestry.com/cgi-bin/sse.dll?indiv=1&dbid=2469&h=214912045&tid=&pid=&queryId=33a0a3dd35cd5c265484e4974c812d0a&usePUB=true&_phsrc=Azi17&_phstart=successSource
1947 article re his role in hospital fundraising
https://www.newspapers.com/image/609463165/?terms=hubert%2Bs%2Byandle
1949 newspaper article re his role on Chamber of Commerce
https://www.newspapers.com/image/609449460/?terms=hubert%2Bs%2Byandle
1949 newspaper article; more on Chamber of Commerce
https://www.newspapers.com/image/265265667/?terms=hubert%2Bs%2Byandle
1951 newspaper article re his role in Santa Rosa Civil Defense
https://www.newspapers.com/image/266650350/?terms=hubert%2Bs%2Byandle
1954 newspaper article, more on Civil Defense
https://www.newspapers.com/image/265206599/?terms=hubert%2Bs%2Byandle
1955 Santa Rosa directory
https://search.ancestry.com/cgi-bin/sse.dll?indiv=1&dbid=2469&h=267696347&tid=&pid=&queryId=33a0a3dd35cd5c265484e4974c812d0a&usePUB=true&_phsrc=Azi14&_phstart=successSource
1957 Santa Rosa directory
https://search.ancestry.com/cgi-bin/sse.dll?indiv=1&dbid=2469&h=1169096643&tid=&pid=&queryId=33a0a3dd35cd5c265484e4974c812d0a&usePUB=true&_phsrc=Azi15&_phstart=successSource
1960 newspaper article re his suicide
https://www.newspapers.com/image/281969806/?terms=hubert%2Bs%2Byandle
1960 Social Security record (includes death)
https://search.ancestry.com/cgi-bin/sse.dll?indiv=1&dbid=60901&h=812794954&tid=&pid=&queryId=33a0a3dd35cd5c265484e4974c812d0a&usePUB=true&_phsrc=Azi4&_phstart=successSource
1960 Find a Grave record
https://www.findagrave.com/memorial/131141281/hubert-sidney-yandle
1960 US Headstone Application for Military Veterans
https://search.ancestry.com/cgi-bin/sse.dll?indiv=1&dbid=2375&h=64395&ssrc=pt&tid=27987812&pid=5109511569&usePUB=true