Anthony Bernard "Tony" Young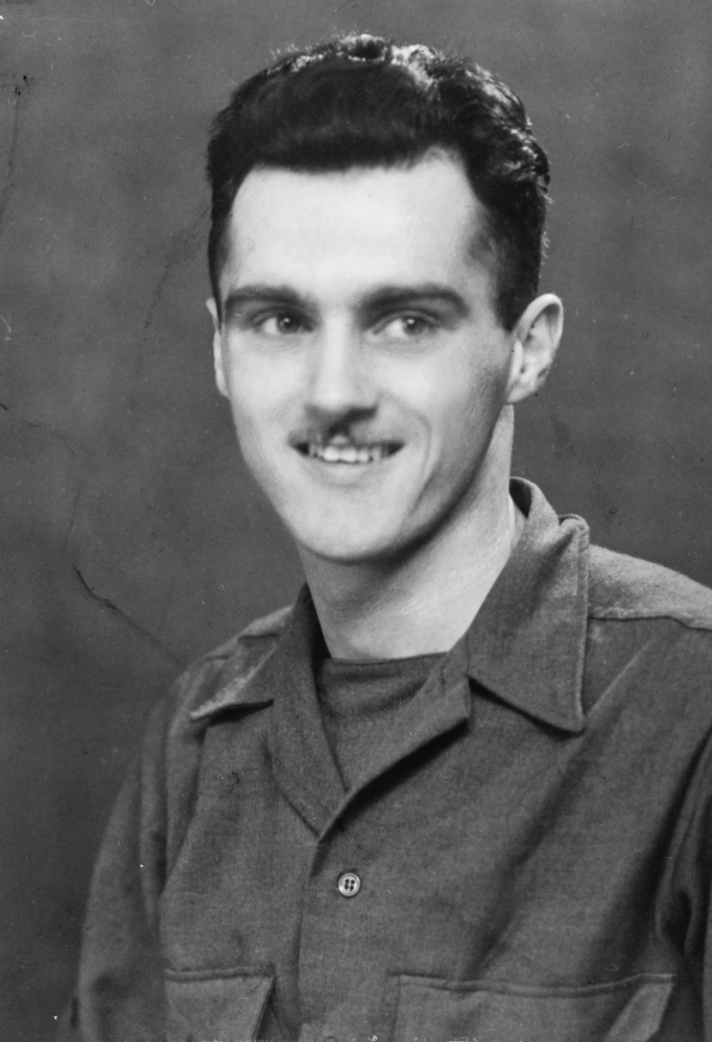 PVT in 603rd Engineer Camouflage Bn : Co B, 1st Platoon
ASN#16141496
Born 1922 in IL, Died 2009
Artist
County of residence at enlistment: Cook County, IL
United States Army, European Theatre of Operations
Occupation before the war: commercial artists
Notes: promoted to SGT; Good Conduct Medal
Source: 603rd Camouflage Engineer Roster provided by W. Anderson; Company B Names and Addresses roster; bio info from The Ghost Army by Beyer/Sayles and from daughter Erika Vrabell; photo from GA Legacy Project
Tony Young was born on January 13, 1922 in Chicago, the older of two boys. In his senior year of high school he won a scholarship to the Art Institute of Chicago, but could not afford to take it. Instead he went to work as a delivery boy in the mailroom at Peoples Gas Light & Coke Company in Chicago, where he would remain until his retirement. He also practiced commercial art as a sideline.
Tony filled out his draft registration on June 29, 1942, and enlisted a few months later, on October 17, after seeing a notice that the military was looking for artists to become part of a special unit.
He became engaged to his future wife, the German-born Erika Schmidt, in 1942 after a dinner at famed Chicago restaurant Berghoff's; they married in 1943. They would go on to have three children: Anthony, Erika, and Barbara.
Tony served overseas with the Ghost Army; after his return to the US he went back to work at Peoples.
During his 44 years with the utility, he moved from delivery boy, to artist, to head of the creative group, to assistant advertising manager in 1956, and finally to advertising manager in 1959. In his tenure there, he created the well-known "Penny Flame" and "Digger" images for ad campaigns.
He retired in 1984, saying he planned to pursue art, photography, and golf, with a promise to bring down his handicap. He continued to study art throughout his retirement, working in a variety of media.
Tony died on March 9, 2009, in Chicago, and is buried at Maryhill Catholic Cemetery and Mausoleum in Niles, IL. He was survived by his wife; they had been married for 66 years.
Photo:
1940 high school yearbook photo
https://www.ancestry.com/discoveryui-content/view/307888905:1265?indiv=1&tid=&pid=&queryId=b36087b05e7adfcf223a17ed5cfdeed7&usePUB=true&_phsrc=pML1&_phstart=successSource
2003 photo with wife
https://www.newspapers.com/image/233926318/?terms=anthony%20b%20young&match=1
Sources:
1942 draft card
https://search.ancestry.com/cgi-bin/sse.dll?indiv=1&dbid=2238&h=300852350&tid=&pid=&queryId=399ebbf02c57faa08e3e93dcb7fc2af3&usePUB=true&_phsrc=RlQ8&_phstart=successSource
1942 enlistment record
https://search.ancestry.com/cgi-bin/sse.dll?indiv=1&dbid=8939&h=2627047&tid=&pid=&queryId=399ebbf02c57faa08e3e93dcb7fc2af3&usePUB=true&_phsrc=RlQ9&_phstart=successSource
1956 Chicago Tribune article re his promotion
https://www.newspapers.com/image/372700038/?terms=anthony%20b%20young&match=1
1959 Chicago Tribune article re his promotion
https://www.newspapers.com/image/372969251/?terms=anthony%20b%20young&match=1
1984 Chicago Tribune article re his retirement
https://www.newspapers.com/image/388633084/?terms=anthony%20b%20young&match=1
2009 Social Security death index
https://search.ancestry.com/cgi-bin/sse.dll?indiv=1&dbid=3693&h=84402894&tid=&pid=&queryId=b36087b05e7adfcf223a17ed5cfdeed7&usePUB=true&_phsrc=RlQ12&_phstart=successSource
2009 Find a Grave record
https://www.findagrave.com/memorial/110224446/anthony-b.-young
2009 Chicago Tribune death notice
https://www.newspapers.com/image/231997306/?article=f140373b-381e-4c97-ba7e-260f9a7ef2c2&focus=0.7764466,0.7396786,0.9236133,0.84543735&xid=3355&_ga=2.207276756.632530333.1607376168-1429075086.1606939333
2013 article by daughter Erika Vrabel in Lakeview IL Patch
https://patch.com/illinois/lakeview/an--wwii-the-ghost-army-premieres-46e2e9be
2018 article by Rick Beyer in Chicago Sun-Times
https://chicago.suntimes.com/2018/2/24/18390858/honoring-an-army-of-ghosts-who-helped-the-allies-win-world-war-ii