Overseas
October 15, 1944
Letters from Harold J. Dahl
Somewhere in Luxembourg
[Sunday]
October 15, 1944

Dear Mom & Lou,
There is not much to say - just a few things, I guess. The things for the kids are on their way, thru the kindness of the Red Cross in Paris. The only thing is, I don't know whether or not they will go to Yvette and her sisters or some other deserving girls. That being the case, I took out one of the dresses and gave it to a little "Luxembourgoise" whose Mother does our laundry and who needs anything we can give. The father is an invalid and the Mother works terribly hard over huge quantities of laundry in order to get together a little money. And the kids are so skinny, but so happy at the little things we do. One stick of gum is a treasure. Also I gave them a few of the gew-gaws in a box that came to late to send with the others. I hope you don't mind. Oh yes, Nettie's Mother said she would mail you a picture of the kid with the dress on.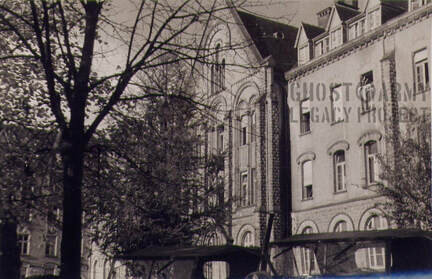 Those Hydrox crackers went good, let me tell you - another good thing was some Nestle's Everready Cocoa one of the boys received. Now that it is getting colder something warming is a treat. Our rations are very , very good now - today we had cranberry jelly made from dehydrated, powdered cranberries. You'd be surprised how many things we eat are dehydrated, yet turn out extremely close to the original. We'll probably have them at home "apres la guerre".
What keeps those Germans going is beyond us - they've lost almost everything in the way of sources of supply, army after army, and still they prolong what must inevitably end in their complete surrender. All they are doing in causing more men to die, more women & children, German this time, to go homeless for a dead cause. Surely there must be some in Germany who see clearly what they are up against or must we beat it into every skull individually? Let's hope it will soon clear up -
Love
Harold
​
P.S. A request - please send some warming drink or some cream soups. Are fish cakes still rationed?