Walter Leroy Leech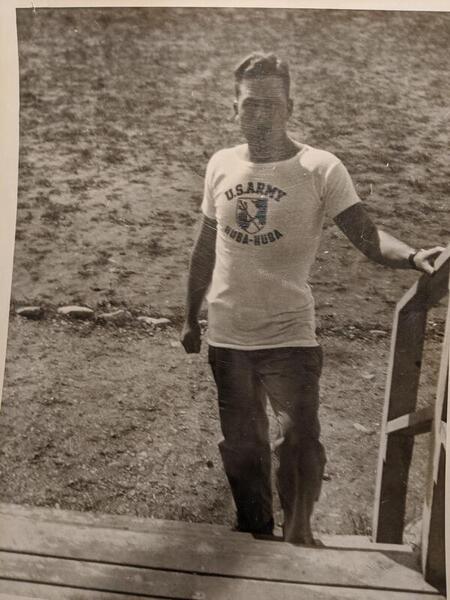 T/5 in 3133rd Signal Service Co
ASN#16112745
Born 1921 in MI, Died 2010
County of residence at enlistment: Lenawee County, MI
Other residence(s): Des Moines, IA; Flint, MI; Morenci, MI
United States Army, European Theatre of Operations
Occupation before the war: unskilled occupations in manufacture of automobiles, n.e.c.
College education before the war: Michigan State 2 years
College education after the war: Drake
Source: 3133rd Program, 15 Sep 1944; 3133rd roster from 10th Mountain Division Museum at Fort Drum; photo courtesy of daughter Stephanee Leech
Walter Leech was born on September 2, 1921 in Morenci, Michigan, a small town on the Ohio border. He was the second of nine children.
He was a star at Morenci High School: serving as president of the senior class, winning the American Legion Citizenship Medal, playing end on the football team, and in 1939, the year of his graduation, setting the Lenawee County half mile record at 2 minutes 9.9 seconds.
He would go on to study radio engineering at Michigan State University. While at Michigan State he registered for the draft on February 16, 1942, and enlisted on August 18, 1942. At the time of his enlistment as a private in the Signal Corps he was employed as an unskilled auto worker, presumably a summer job. He was sent to Chicago to pursue his military training.
He eventually ended up in the 3133rd Signal Service Company and saw service in Italy during the war.
He was released from the army on May 14, 1946, with the rank of T/5. After completing any necessary undergraduate requirements, he attended law school at Drake University in Des Moines, Iowa. During this period he also worked as a Special Agent with the FBI for five years.
On May 5, 1951 he married Harriet Ann "Jay" Downing; they would go on to have two daughters. Walter passed the bar in 1957, and in 1958 the family moved to Flint, Michigan where he practiced law for 25 years. He capped off his career with an appointment as a Federal Administrative Law Judge.
After retiring he occupied himself as a gentleman farmer at his home in Durand, raising and showing horses with his wife. Jay was, apparently, the horse expert--having authored a book entitled How to Care For Your Horse. (She also was the author or co-author of four children's books.)
He died on February 2, 2010, and is buried at Great Lakes National Cemetery in Holly, Michigan.
Photo:
In judge's robes
https://www.findagrave.com/memorial/48073445/walter-l_-leech
Sources:
1938 article from Adrian Daily Telegram (MI); he is president of senior class
https://www.genealogybank.com/doc/newspapers/image/v2%3A13467F199177BC2C%40GB3NEWS-16883CCA8A27B36D%402429245-1687E3921E491C03%404-1687E3921E491C03%40?h=10&fname=walter&lname=leech&fullname=&rgfromDate=1921&rgtoDate=2010&formDate=&formDateFlex=exact&dateType=range&kwinc=&kwexc=&sid=uzdfeaxjsqjaztwnutexkmupqtecikcn_wma-gateway002_1598468004762
1939 article from Adrian Daily Telegram re his high school graduation (clipping attached)
https://www.genealogybank.com/doc/newspapers/image/v2%3A13467F199177BC2C%40GB3NEWS-1689D9C6B16FB612%402429425-1689C620D9552621%404-1689C620D9552621%40?h=1&fname=walter&lname=leech&fullname=&rgfromDate=1921&rgtoDate=2010&formDate=&formDateFlex=exact&dateType=range&kwinc=&kwexc=&sid=uzdfeaxjsqjaztwnutexkmupqtecikcn_wma-gateway002_1598468004762
1939 article from Adrian Daily Telegram re his track record
https://www.genealogybank.com/doc/newspapers/image/v2%3A13467F199177BC2C%40GB3NEWS-16886726823008C2%402429402-16885F334C73362D%4011-16885F334C73362D%40?h=2&fname=walter&lname=leech&fullname=&rgfromDate=1921&rgtoDate=2010&formDate=&formDateFlex=exact&dateType=range&kwinc=&kwexc=&sid=uzdfeaxjsqjaztwnutexkmupqtecikcn_wma-gateway002_1598468004762
1940 census
https://search.ancestry.com/cgi-bin/sse.dll?indiv=1&dbid=2442&h=84039774&tid=&pid=&queryId=0b5d8e042c0bd5d9e0b769a5190c0cc6&usePUB=true&_phsrc=yvz3&_phstart=successSource
1942 draft card
https://search.ancestry.com/cgi-bin/sse.dll?indiv=1&dbid=2238&h=268613219&tid=&pid=&queryId=0b5d8e042c0bd5d9e0b769a5190c0cc6&usePUB=true&_phsrc=yvz8&_phstart=successSource
1942 enlistment record
https://aad.archives.gov/aad/record-detail.jsp?dt=929&mtch=1&cat=all&tf=F&q=16112745&bc=&rpp=10&pg=1&rid=196213
1942 article from Adrian Daily Telegram re his enlistment (info re school he attended appears to be in error; clipping attached)
https://www.genealogybank.com/doc/newspapers/image/v2%3A13467F199177BC2C%40GB3NEWS-168A8C574F1F6F81%402430597-168A784B4E7E9322%406-168A784B4E7E9322%40?h=6&fname=walter&lname=leech&fullname=&rgfromDate=1921&rgtoDate=2010&formDate=&formDateFlex=exact&dateType=range&kwinc=&kwexc=&sid=uzdfeaxjsqjaztwnutexkmupqtecikcn_wma-gateway002_1598468004762
1951 marriage record
https://search.ancestry.com/cgi-bin/sse.dll?indiv=1&dbid=9093&h=1918745&tid=&pid=&queryId=0b5d8e042c0bd5d9e0b769a5190c0cc6&usePUB=true&_phsrc=yvz1&_phstart=successSource
1957 article in Detroit Free Press; passed the bar
https://www.newspapers.com/image/97917535/?terms=walter%2Bl.%2Bleech
2010 Find a Grave record (includes obituary)
https://www.findagrave.com/memorial/48073445/walter-l_-leech
2010 VA death record
https://search.ancestry.com/cgi-bin/sse.dll?indiv=1&dbid=2441&h=734668&tid=&pid=&queryId=0b5d8e042c0bd5d9e0b769a5190c0cc6&usePUB=true&_phsrc=yvz11&_phstart=successSource
2010 Obituary from the Flint Journal
https://obits.mlive.com/obituaries/flint/obituary.aspx?n=walter-l-leech&pid=139349677&fhid=4728