Robert Constantino Petrucci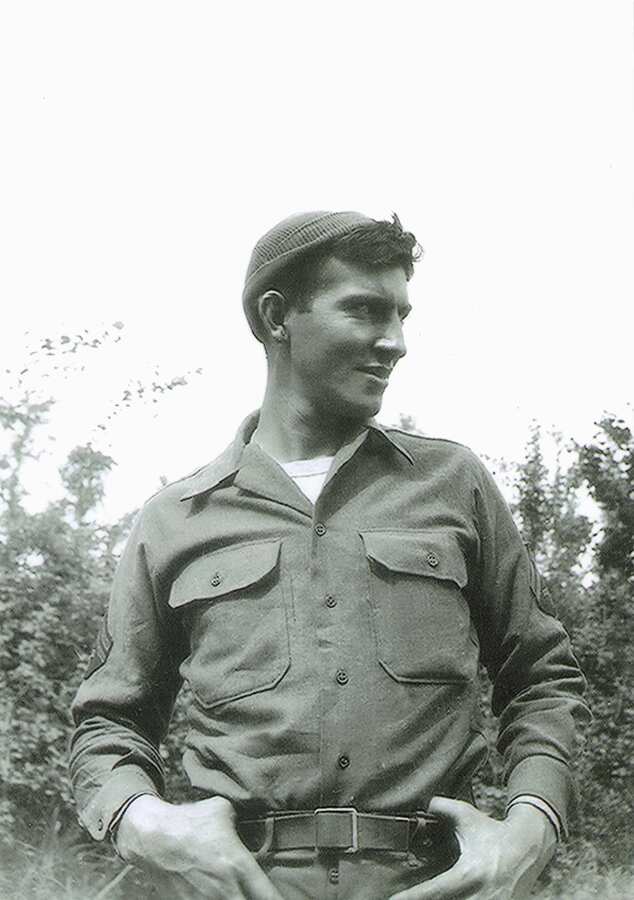 PFC in 603rd Engineer Camouflage Bn : Co A
ASN#12145273
Born 1921 in NY, Died 2018
Artist
County of enlistment: New York, NY
Other residence(s): Levittown, NY in 2002
United States Army, European Theatre of Operations
Occupation before the war: managers and officials, n.e.c.
College education before the war: Pratt 1 year
Notes: Petrucelli in 603rd Company A photo; final rank T/5
Source: 603rd Camouflage Engineer Roster provided by W. Anderson; Photo of 603rd Company A, 13 May 1945; Bernie Mason Company A, B, D Roster; Teddy Katz Co A Roster; photo courtesy Mike Petrucci
Bob Petrucci was born on August 17, 1921, in White Plains, NY, the oldest of three children. His parents had both been born in Italy and immigrated to the US the year Bob was born; his father was a tailor by trade and had a shop in White Plains.
Bob and his siblings spent part of their childhoods in Genoa, Italy; according to his obituary in Newsday, they "moved back to the United States when the first rumblings of fascism in Italy began."
Bob started college at Pratt Institute in New York in 1941, with a weekend job at Safeway to help pay the bills. He registered for the draft on February 15, 1942, and enlisted on September 22, 1942, joining a number of other Pratt students, and artists from other schools and jobs, in the 603rd Engineer Camouflage Battalion. Before he went overseas with the unit, he married his high school sweetheart, Beatrice Striani.
After he was discharged from the Army, with the rank of T/5, he took a job with the WIlliam Esty Company in New York, an advertising firm. He became an art director there, and worked on campaigns for major companies of the 1950s and 60s, including the famous 1964 Camel man billboard in Times Square that blew rings of steam.
Bob and Bea were among the original purchasers of a home in Levittown in 1951, and there they became the parents of six children: Robert, Nanette, Cynthia, Laura, Michael, and Marie. (Sadly, Marie died in infancy.) Each day when Bob commuted to New York City, he brought a newspaper to read and paper to sketch passers-by. He also displayed his design skills and sense of humor in the posters, signs, letters, cards, and invites that he created for friends and family over the years. Ghost Army Legacy Foundation President Rick Beyer recalls: "As a recipient of one of those cards, I can testify to the effort and creativity that went into them!"
Bob spent nearly 40 years with the Esty Company (which eventually, through acquisitions and mergers, became Campbell-Mithun-Esty, and later just Campbell Mithun). Later, he became a freelance designer for Long Island's Don Jagoda Associates until he retired in the mid-1990s.
According to his Newsday obituary, "When his children grew up and had families of their own, [he] shifted from school projects to home improvement ones. At his daughter Cynthia Sourbeck's home in Northport, he built a compost bin and 14-foot carved arbor and bench for her garden. 'Every time I sat on it, I was amazed that he was 80 years old when he made it,' Sourbeck said."
Bea died of lung cancer in 1978. Bob remained in the house in Levittown until his own death on March 19, 2018. He left behind his long-time companion, Helen Merola. Bob is buried at the Long Island National Cemetery, part of Pinelawn Cemetery in East Farmingdale, NY. Under his name, dates, and Army service information, his tombstone bears the words "GHOST ARMY" and "He and Bea made better best."
Sources:
1930 census
https://www.ancestry.com/discoveryui-content/view/47184988:6224
1936 ship manifest; returning to US. from Genoa, Italy
https://search.ancestry.com/cgi-bin/sse.dll?indiv=1&dbid=7488&h=22363810&tid=&pid=&queryId=275e2b2e62d95daa340f2d11ffa6d457&usePUB=true&_phsrc=DbV3&_phstart=successSource
1940 census
https://www.ancestry.com/discoveryui-content/view/12289324:2442?tid=&pid=&queryId=334263934eaad4d88847efeece21b663&_phsrc=XMc7&_phstart=successSource
1942 draft card
https://search.ancestry.com/cgi-bin/sse.dll?indiv=1&dbid=2238&h=304263395&tid=&pid=&queryId=3cf15fba35cb76d1e1d0b9184a11da0d&usePUB=true&_phsrc=XMc6&_phstart=successSource
1942 enlistment record
https://aad.archives.gov/aad/record-detail.jsp?dt=893&mtch=1&cat=all&tf=F&q=12145273&bc=&rpp=10&pg=1&rid=579288
2018 Find a Grave record
https://www.findagrave.com/memorial/188291076/robert-c-petrucci
2018 Newsday obituary
https://www.newsday.com/long-island/obituaries/robert-petrucci-dies-1.17969158
2018 obituary
https://www.legacy.com/us/obituaries/newsday/name/robert-petrucci-obituary?pid=188555345