Helmut Georg Tietje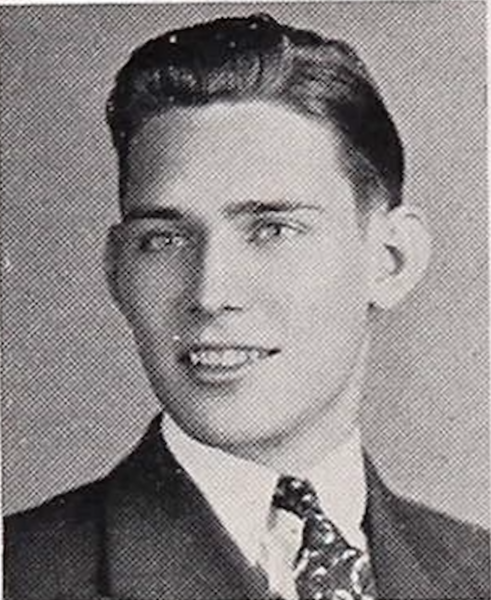 PFC in 603rd Engineer Camouflage Bn : Co D; HQ & Service Co
ASN#32910293
Born 1923 in Germany, Died 1988
Artist
County of residence at enlistment: Bergen County, NJ
Other residence(s): Bronx, NY; Palisades Park, NJ
United States Army, European Theatre of Operations
College education before the war: NC State 1 year
College education after the war: Pratt
Source: Notes provided by family of Harold Dahl; Bernie Mason Company D Roster; Photo Caption from Seymour Nussenbaum Scrapbook; photo from 1941 high school yearbook
Helmut Tietje was born on September 10, 1923, in Neuenkirchen, Germany, a small town in the northwest part of the country near the border with the Netherlands. His father was a tinsmith and he was an only child. The family emigrated to the United States in 1927 when he was four years old. They lived in the Bronx, and Helmut was educated there, graduating from DeWitt Clinton High School in 1941 where he was nicknamed "Henry," played in the orchestra, and was a member of the track team. His yearbook reported his career goal: to be a mechanical drawing teacher. The family moved to Palisades Park, NJ after his high school graduation.
He registered for the draft on June 30, 1942, at which time he reported that he had a summer job at the Stevens Institute in Hoboken, but was attending college during the school year. He enlisted in the Army on April 1, 1943, and by the fall of 1943 had become Cadet Tietje, studying at North Carolina State with the Army Specialized Training Program (ASTP). (The ASTP was a program designed to meet the wartime demand for junior officers and soldiers with technical skills.) His interest was in design, and like many other artists he found his way into the 603rd Engineer Camouflage Battalion.
He was discharged from the Army with the rank of PFC and returned to New Jersey. Possibly inspired by his fellow Ghost Army soldiers, he enrolled at Pratt Institute in New York. He graduated from Pratt with a major in industrial design in June, 1947, and married Gerda Petersen a year later. The new bridegroom worked as an industrial designer for Fabergé, Inc. in Ridgefield, NJ.
The Tietjes lived in several communities in Northern New Jersey, and became the parents of three children: Arno, Donna, and Alan.
By 1956, Helmut had taken a job at Becton-Dickinson & Co., a medical technology company. He spent 14 years there, becoming director of corporate product planning in 1967 after serving as general manager of the company's Bioquest division.
In 1970, Helmut and two colleagues founded Health Advancement, Inc. (HAI), and he served as vice president. In 1973, he was appointed president of Contourpedic Corp., a subsidiary of HAI. Countourpedic manufactured custom-contoured seats, primarily for use by patients permanently or semi-permanently confined to wheelchairs.
By the 1980s, he had started another company, T.M. Industries, in Hampton, NJ, a manufacturer of lubricators for heavy machinery.
Helmut was the holder of five US patents. He was a member of the Society of Plastic Engineers and the NJ Business Association. He belonged to William F. Burke Masonic Lodge 230 in Bogota, and was a member of the Grace Evangelical Lutheran Church in Palisades Park.
Helmut died on January 16, 1988 in Union Township, NJ and is buried in George Washington Memorial Park in Paramus, NJ.
Sources:
1927 shipboard manifest (immigration)
https://search.ancestry.com/cgi-bin/sse.dll?indiv=1&dbid=7488&h=2000309287&tid=&pid=&queryId=f60360298a3d6e7e6491ad0aef20400e&usePUB=true&_phsrc=heC5&_phstart=successSource
1940 census
https://www.ancestry.com/discoveryui-content/view/15799810:2442?ssrc=pt&tid=82361272&pid=34501943432
1941 high school yearbook
https://www.ancestry.com/discoveryui-content/view/102202240:1265?ssrc=pt&tid=82361272&pid=34501943432
1942 draft card
https://www.ancestry.com/discoveryui-content/view/302121168:2238?tid=&pid=&queryId=f60360298a3d6e7e6491ad0aef20400e&_phsrc=heC4&_phstart=successSource
1943 enlistment record
https://search.ancestry.com/cgi-bin/sse.dll?indiv=1&dbid=8939&h=1835645&ssrc=pt&tid=82361272&pid=34501943432&usePUB=true
1943 article in The Record (Hackensack NJ) re his college & military
https://www.newspapers.com/image/489485970/?terms=helmut%20tietje&match=1
1947 article in The Record (Hackensack NJ) re his graduation from Pratt
https://www.newspapers.com/image/490160075/?terms=helmut%20tietje&match=1
1948 marriage announcement in The Record (Hackensack NJ)
https://www.newspapers.com/image/489672452/?article=b71b6979-2c14-43da-8bc9-7499c99d63ed&focus=0.8404265,0.036490534,0.9716734,0.45862168&xid=3398&_ga=2.35638375.796265984.1623325025-2124517765.1623027274
1967 article in The Herald-News (Passaic NJ) re his career
https://www.newspapers.com/image/527128574/?terms=helmut%20tietje&match=1
1973 article in The Herald-News (Passaic NJ) re his job
https://www.newspapers.com/image/528482655/?terms=helmut%20tietje&match=1
1988 obituary in The News (Wycoff, NJ)
https://www.newspapers.com/image/548769756/?article=8542d747-5bcc-46f8-8876-33375ac59196&focus=0.65577996,0.3306712,0.8048467,0.6234586&xid=3355&_ga=2.136774902.796265984.1623325025-2124517765.1623027274
1988 Find a Grave record
https://www.findagrave.com/memorial/155121432/helmut-g.-tietje