George Jacob Vander Sluis
PVT in 603rd Engineer Camouflage Bn : Co B, 4th Platoon
ASN#77090407
Born 1915 in OH, Died 1984
Artist
United States Army, European Theatre of Operations
College education before the war: Cleveland Institute of Art
Source: 603rd Camouflage Engineer Roster provided by W. Anderson; Company B Names and Addresses roster; bio info from The Ghost Army by Beyer/Sayles; photo from Tompkins Collection, GALP Archive
George Vander Sluis was born in Cleveland, OH on December 18, 1915. Both of his parents were born in the Netherlands; he was the third of four children.
He graduated from West Technical High School in 1934, winning a competitive examination scholarship to study at what is now the Cleveland Institute of Art. He taught art in settlement houses during his four years there to provide living expenses. He graduated from the Institute in 1938 with a major in mural painting, and won another scholarship for a fifth year of study. In 1938 he also married social worker Emma King.
He spent some time at the New York Worlds' Fair in 1939-1940 doing quick sketches—caricatures and life drawing—along with four art school buddies from Cleveland.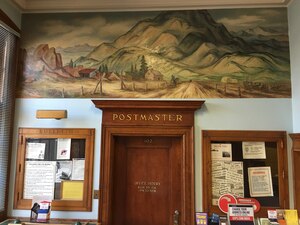 In 1940 he was offered a position teaching painting and design at the Colorado Springs Fine Arts Center. This highly respected arts program (previously known as the Broadmoor Art Academy) saw many of its faculty and students involved in painting murals under the aegis of New Deal programs. In fact, it was FAC instructor George Biddle who wrote to his former classmate, Franklin Delano Roosevelt, proposing a program for artist relief through murals. George painted two Post Office murals which still survive—"Farm Scene" or "Lambing Time" in Riverton, WY and "Colorado Landscape" in Rifle, CO.
These were executed as part of the Section of Fine Arts of the Treasury Department. The Riverton work earned him $850, equivalent to about $14,000 today. And apparently that mural was said to have inspired costuming for the main characters in the film
Brokeback Mountain
.
Despite his youth, George had amassed some significant artistic credentials by the time he enlisted in the Army in 1942. He held a one-man show at the Utah State Art Center in 1942, which included 40 paintings (including works in oil, oil mixed with sand, gouache, and watercolor), lithographs, and drawings. Also in 1942 he won the T. J. Strickler purchase prize at the Midwestern Artists' Exhibition.
And even after being assigned to the Ghost Army, he won 2nd place in the Baltimore
Evening Sun
sketch contest in 1943, while serving as a Corporal at Fort Meade. A group of his drawings and watercolors was exhibited in 1942-1943 at Columbia Art and Architectural School.
He was deeply respected for his artistic skills by his peers in the Ghost Army. After his release in 1945, with the rank of SGT, he returned to the FAC to teach for two more years.
In 1947 he was offered a position teaching drawing and painting at Syracuse University, and he relocated to New York. Somewhere along the way his marriage had dissolved, and in Syracuse he married Hildegarde Stein Bristol, who had graduated from Syracuse with a major in music education. George and Hildegarde would go on to have three children: Sylvia, Peter, and Jeff.
George would remain on the Syracuse faculty for 35 years. He won a Fulbright to study in Italy for a year, sailing to Naples with Hildegarde and one-year-old Sylvia in September 1951.
In 1966 he began a yearlong project to decorate barns and barn doors in New York State, under the auspices of a grant from the NY State Council on the Arts. The grant included the support of a graduate student to help with the reconstruction and painting; each design was different and all were executed at no cost to the owner. This stint landed him on an episode of the TV show To Tell the Truth, according to his son Jeff. Later in his career he continued to focus on the representation and celebration of barns in his paintings.
In 1970, he was named Associate Dean of the College of Arts and Chair of the College of Visual and Performing Arts at Syracuse.
The following year he designed two iconic US postage stamps—the 9 and 11 cent airmail stamps.
In 1975, the Ford Foundation granted him the title of "Outstanding Educator of America." He also won several awards for his lifetime achievement in fine arts.
During his years at Syracuse he held dozens of one-man shows. exhibited in a number of regional shows, and won numerous awards for his painting. His work is housed in numerous museums and private collections.
He died on March 2, 1984 in Camillus, NY.
Sources:
1934 article in Cleveland Plain Dealer re his winning a scholarship to Cleveland Institute of Art
https://www.genealogybank.com/doc/newspapers/image/v2%3A122AFBBA107AC9E4%40GB3NEWS-126669BCA9FE73CB%402427598-12666247D7109A1A%4016-12666247D7109A1A%40?h=48&fname=george&lname=vander%20sluis&fullname=&kwinc=&kwexc=&rgfromDate=&rgtoDate=&formDate=&formDateFlex=exact&dateType=range&processingtime=&addedFrom=&addedTo=&page=3&sid=cgknkjitwhzxopvbnrponaavobmysrds_wma-gateway002_1608756995103
1938 marriage announcement in Pittsburgh Post-Gazette
https://www.newspapers.com/image/90552149/?terms=george%20j%20vander%20sluis&match=1
1938 marriage record
https://search.ancestry.com/cgi-bin/sse.dll?indiv=1&dbid=1876&h=1147679&tid=&pid=&queryId=02842d3562865a6d77c1325d9726fb70&usePUB=true&_phsrc=JNU8&_phstart=successSource
1938 article in Cleveland Plain Dealer re his graduation from the Cleveland Institute of Art
https://www.genealogybank.com/doc/newspapers/image/v2%3A122AFBBA107AC9E4%40GB3NEWS-1268B3B2516F7F31%402429054-1268ACBF694FEAD1%4012-1268ACBF694FEAD1%40?h=16&fname=george&lname=vander%20sluis&fullname=&kwinc=&kwexc=&rgfromDate=&rgtoDate=&formDate=&formDateFlex=exact&dateType=range&processingtime=&addedFrom=&addedTo=&page=1&sid=cgknkjitwhzxopvbnrponaavobmysrds_wma-gateway002_1608756995103
1940 Census
https://www.ancestry.com/discoveryui-content/view/40343733:2442?indiv=1&tid=&pid=&queryId=c4e71a0ef84a89244bb1ade45b948521&usePUB=true&_phsrc=JNU6&_phstart=successSource
1940 Draft card
https://search.ancestry.com/cgi-bin/sse.dll?indiv=1&dbid=2238&h=8595246&tid=&pid=&queryId=13844561ea27f6d5a14c76ab22f012ba&usePUB=true&_phsrc=JNU2&_phstart=successSource
1942 article in Kansas City Star re an art prize he won
https://www.newspapers.com/image/656990885/?terms=george%20j%20vander%20sluis&match=1
1942 article in Salt Lake City UT Deseret News re his one-man show
https://www.newspapers.com/image/595231028/?terms=george%20vander%20sluis&match=1
1943 article in Baltimore MD Evening Sun re an art prize he won (contains biographical details)
https://www.newspapers.com/image/369745386
1950 article in Ithaca Journal (NY)
https://www.newspapers.com/image/257271659/?terms=george%20j%20vander%20sluis&match=1
1951 shipboard record
https://search.ancestry.com/cgi-bin/sse.dll?indiv=1&dbid=60882&h=2619827&tid=&pid=&queryId=c4e71a0ef84a89244bb1ade45b948521&usePUB=true&_phsrc=JNU10&_phstart=successSource
1955 article in Syracuse NY Post-Standard re an art prize he won
https://www.newspapers.com/image/15996453/?terms=george%20vander%20sluis&match=1
1956 article in Syracuse NY Post-Standard describes his Fulbright
https://www.newspapers.com/image/35976272/?terms=george%20vander%20sluis&match=1
1966 article in Rochester NY Democrat and Chronicle re his project to paint barns
https://www.newspapers.com/image/136514032/?terms=george%20j%20vander%20sluis&match=1
1971 article in the Cedar Rapids, Iowa Gazette re his stamp design
https://www.newspapers.com/image/550743290/?terms=george%20j%20vander%20sluis&match=1
Website describing his WPA work with specifics on the painting of the Wyoming mural
https://livingnewdeal.org/projects/post-office-mural-riverton-wy/