George Fox (or Francis) Nardiello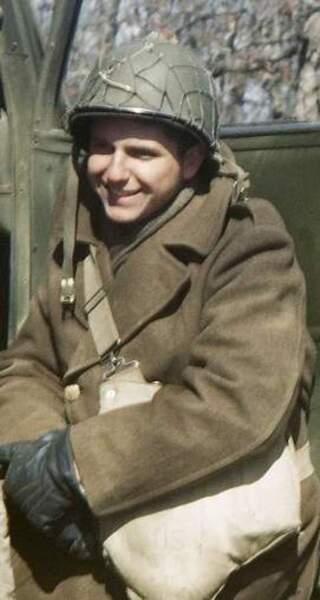 PVT in 603rd Engineer Camouflage Bn : Co C
ASN#12146282
Born 1922 in NY, Died 2005
Artist
Other residence(s): New York, NY; Fort Lauderdale, FL; Palm Springs, CA
United States Army, European Theatre of Operations
College education before the war: Yale
College education after the war: Parsons
Notes: Fox was mother's maiden name
Source: 603rd Camouflage Engineer Roster provided by W. Anderson; Comment by Howard Holt; Company C roster; photo from GALP Archive
George Nardiello was born on January 28, 1922 in Manhattan, one of four sons. His father, Vincent Nardiello, was the doctor for the NY State Boxing Commission, and also treated injured hockey players for the NY Americans and the NY Rangers. (Dr. Nardiello was said to have sewn 233 miles of stitches into those hockey players, and one of them referred to him as the "fastest needle in the Old Northeast.")
A 1991 article in the Palm Beach Post reports that George grew up "in a sportingly cosmopolitan atmosphere." He attended several colleges, including Yale, before the war, dropping out of all of them. Seeing George's interest in design, his father was able to hook him up with Anthony Blotta, a New York fashion designer, who took him on as a fabric stretcher; the experience "amounted to a classic apprenticeship."
George registered for the draft on June 30, 1942, using the middle name of "Fox." ("Fox" was his mother's maiden name; later on in life he used the middle name of "Francis.") When he enlisted, he joined the 603rd.
After the war, George took up his studies again, this time with a better idea of what he wanted in life. He graduated from Parsons School of Design in New York in 1948. Shortly after his graduation he and fellow Ghost Army veteran Bill Blass, Parsons '49, were among the winners of the prestigious Chicago Tribune American Fashion Competition Award. Nardiello and Blass would go on to see their designs among the winners almost every year through 1953. He and Blass would remain friends for the rest of their lives.
Nardiello made a reputation as a designer of cocktail and evening gowns, traveling to Europe four times a year for inspiration and personal renewal. Unlike Blass he did not pursue his own label, but worked for design labels Anthony Blotta, Kiki Hart, Cameo, and Rona.
In 1954, he married a woman he described as "very social, very grand, very beautiful," Italian contessa Marisa Pompei de Lassi. The Palm Beach Post article says that their daughter, Mia, their only child, was "the only baby in the fashion business who had her clothes made by Blass and Norman Norell."
In 1955, Nardiello became the designer for the personal wardrobe of Marilyn Monroe; they had been introduced by photographer Milton Greene; she was looking for a designer to create her "New Look." In Norman Mailer's 1973 biography of Marilyn, he quotes an interview in which she said that she liked Nardiello because he was "well-groomed and slim and fit into [his] clothes like a beautiful hand . . . inside a glove . . . [he] was so happy inside his suit. It was like the person within . . . also had a good suit which was their own skin." He maintained his "day job," and worked with Monroe on weekends.
Nardiello says that "she was very difficult to design for because she wanted everything to look like a slip. Everything had to be skin tight. You had to reinforce every seam or everything would break."
After several years, Monroe went back to Hollywood and that was the end of their relationship. (Though he was called to her side in 1962 when he was asked to sew her into the Jean Louis dress she wore to sing "Happy Birthday" at John F. Kennedy's birthday party at Madison Square Garden.)
Other stars who wore his signature gowns included Marlene Dietrich, Mitzi Gaynor, Rosalind Russell, and Jayne Mansfield.
George and Marisa divorced about 1973, and he says that the settlement nearly broke him. He continued to design his trademark long flowing evening gowns and became sought after in Republican political circles. His gowns were part of the private collections hand-picked by First Lady Pat Nixon and Lenore Romney (George's wife and Mitt's mother).
In about 1980, George met David Blank, and the two men developed a committed relationship that lasted for 25 years.
By 1985, George could see that "nobody wanted glamour anymore. . . . I had put 40 years in on Seventh Avenue, and I had some money in the bank. I thought to myself, 'Why am I spending all this money to live in New York when I don't enjoy it anymore?'" So he packed it in and moved to Fort Lauderdale, Florida, staying busy two days a week with a volunteer gig at a Pompano Beach thrift shop whose proceeds bought groceries for AIDS patients.
In 1991, he did his first designs in six years, working on two outfits for Marti Huizenga, wife of Florida Marlins owner Wayne Huizenga, to wear to her children's weddings.
In 2002, George moved to Palm Springs, CA. He died on December 10, 2005 after a long illness. (His partner, David Blank, had died earlier in the year.)
Photo:
On the GA site.
https://ghostarmy.com/gallery/f/Pop_Culture/275
Sources:
1942 draft registration
https://search.ancestry.com/cgi-bin/sse.dll?indiv=1&dbid=2238&h=195377847&tid=&pid=&queryId=55cbcbc165b9447f6f0c96dd0a5f4a19&usePUB=true&_phsrc=GOU5&_phstart=successSource
1948 Chicago Tribune article with a photo of one of his dress designs
https://www.newspapers.com/image/370347747/?terms=george%2Bf%2Bnardiello
1949 Chicago Tribune article re win in fashion competition (along with Bill Blass)
https://www.newspapers.com/image/370887454/?terms=george%2Bf%2Bnardiello
1953 Chicago Tribune article about his preliminary win in a fashion competition
https://www.newspapers.com/image/371268525/?terms=george%2Bf%2Bnardiello
1954 marriage license index
https://search.ancestry.com/cgi-bin/sse.dll?indiv=1&dbid=61406&h=4149512&tid=&pid=&queryId=05e0d4e15c1f4eeed301be3a1e8ffab2&usePUB=true&_phsrc=GOU14&_phstart=successSource
1955 Dorothy Kilgallen column describing his work with Marilyn Monroe
https://www.newspapers.com/image/587124556/?terms=george%2Bf%2Bnardiello
1991 article in The Palm Beach Post (FL) about his designs for Marilyn Monroe (and other biographical details)
https://www.newspapers.com/image/132747609
2005 obituary in Desert Sun (Palm Springs CA)
https://www.newspapers.com/image/193897231/?article=589adccc-87af-44de-98d9-117f84dbf640&focus=0.47548681,0.60996956,0.9529935,0.9716249&xid=3355&_ga=2.114496647.1891739893.1605381966-1455753296.1605042556
2005 Social Security death record
https://search.ancestry.com/cgi-bin/sse.dll?indiv=1&dbid=3693&h=76769271&tid=&pid=&queryId=05e0d4e15c1f4eeed301be3a1e8ffab2&usePUB=true&_phsrc=HqY1&_phstart=successSource