Douglas Abbey Jones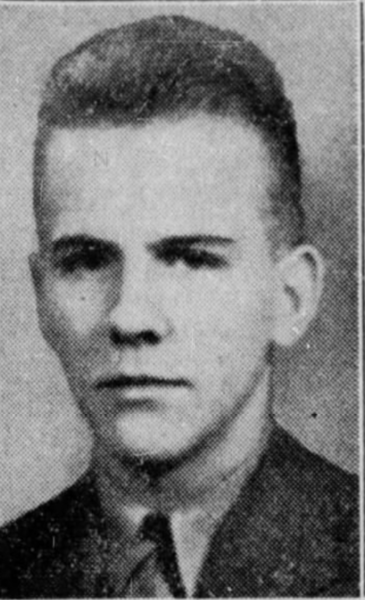 PVT in 603rd Engineer Camouflage Bn : Co A
ASN#12123757 Casualty: Wounded
Born 1919 in CT, Died 1980
Artist
County of residence at enlistment: Cheshire County, NH
Other residence(s): Hartford, CT; Blackstone, VA; East Northfield, MA; Greenfield, MA
United States Army, European Theatre of Operations
Occupation before the war: commercial artists
College education before the war: Yale 4 years
College education after the war: Tyler School of Art at Temple Univ. MFA; Alfred Univ.
Source: 603rd Camouflage Engineer Roster provided by W. Anderson; List of Casualties (Unofficial); Teddy Katz Co A Roster; photo from 1937 Hartford Courant article
Douglas Jones was born on July 15, 1919 in Hartford, CT, the youngest of four children (though one of his older siblings died in infancy before he was born). His mother had been born in Sweden; his father, Carroll, appears in different census years as a farmer, a model maker, and a stock and bond salesman. But Carroll was also an artist, trained at Hartford Art School, and for 22 years he conducted a private boys camp on Swanzey Lake, NH; he also taught art at Keene (NH) High School and the local "Y."
Douglas' uncle, Albertus E. Jones, was also a prominent Connecticut artist in the first half of the 20th century.
Douglas graduated from the William Hall High School in West Hartford, CT, in 1936 where he served as art editor of the yearbook, as had his brother the year before him. Both Douglas and his brother followed in their father's footsteps, studying art at Yale. At the end of his freshman year, Douglas was awarded the Ethel Childe Walker Prize for "merit and progress shown in work done by a pupil under 21 years of age." He received his BFA with a concentration in painting in 1941.
He registered for the draft on October 16, 1940, while he was still a student at Yale. He enlisted on June 29, 1942 at which time he was living in Cheshire County, NH (though he enlisted in NYC) and working as a commercial artist.
Like many artists and art students from the New York City area he was assigned to the 603rd Engineer Camouflage Battalion, and saw service in Europe during the war. After his discharge from the Army, on October 20, 1945, he appears to have pursued an MFA degree at Tyler School of Art and Architecture at Temple University.
He also headed the Art Department at the former Blackstone College for Girls in Blackstone, Virginia for two years.
Douglas married nurse Martha Faulkner on August 30, 1947, and in 1948 accepted a job as head of the Art Department at the Northfield School for Girls (later Northfield Mt. Hermon) in western Massachusetts. He would spend the rest of his career there, living at various times in East Northfield and in nearby Greenfield. Douglas and Martha raised a family of three: Stephen, Thomas, and Katherine, and Martha also worked at the school, serving at various times as a nurse, a switchboard operator, and a staff member in the alumni office and the dean's office.
Douglas also continued to practice his art—working primarily in watercolor but also in oils and collage, and adding pottery to his repertoire after studying ceramics at Alfred University. Several exhibits of his work were held.
In addition to his teaching duties at Northfield, he also taught painting, pottery, and silk screening at the Village school of Arts and Crafts and at his home. When Northfield Mt. Hermon opened an Art Gallery on campus, he became director of that as well. He also worked as a freelance illustrator for the multi-volume Ford Times Cookbook and as a designer for Cape Shore Paper Products.
Sadly, especially given his history as one of the Ghost Army's wartime artists, a 1955 fire in the garage/studio behind his home destroyed 150 of his oil paintings and watercolors, including all of his wartime work.
One of his students at Northfield Mt. Hermon, Yolanda Suarez Merchant, who later became a well-known artist in her own right, said of her former teacher: "He really taught me how to draw, taught me how to see."
Douglas died on December 9, 1980 in Greenfield MA and is buried at St. Mary's Cemetery in Northfield.
In 2009, a retrospective of his work, entitled "The Artistic Expression of Douglas A. Jones" was held at the Northfield Mt. Hermon art gallery.
Photo:
1937 newspaper photograph (probably his high school yearbook photo); see link below
1962 yearbook photo from Northfield School (where he taught)
https://www.ancestry.com/discoveryui-content/view/30804546:1265?tid=&pid=&queryId=31cce408d55bbf00c19c136a15e889d0&_phsrc=Ezq3&_phstart=successSource
Sources:
1920 census
https://www.ancestry.com/discoveryui-content/view/6438680:6061?tid=&pid=&queryId=87a3e3067e87f68485c61f8c3c83cde2&_phsrc=DBI5&_phstart=successSource
1930 census
https://www.ancestry.com/discoveryui-content/view/9639615:6224?tid=&pid=&queryId=682fe5df9e055015a1d1c6efc660c167&_phsrc=DBI11&_phstart=successSource
1937 article in the Hartford Courant (CT) re a prize he won at Yale
https://www.newspapers.com/image/370250354/?terms=douglas%20abbey%20jones&match=1
1937 article in the Hartford Courant (CT) about him and his brother
https://www.newspapers.com/image/370256802/?terms=carroll%20n%20jones&match=1
1940 draft card
https://www.ancestry.com/discoveryui-content/view/39257600:2238?tid=&pid=&queryId=87a3e3067e87f68485c61f8c3c83cde2&_phsrc=DBI3&_phstart=successSource
1940 census
https://www.ancestry.com/discoveryui-content/view/130543618:2442?tid=&pid=&queryId=ef877de0583e08826c2c22c53c92f61f&_phsrc=DBI9&_phstart=successSource
1942 enlistment record
https://search.ancestry.com/cgi-bin/sse.dll?indiv=1&dbid=8939&h=6417325&tid=&pid=&queryId=87a3e3067e87f68485c61f8c3c83cde2&usePUB=true&_phsrc=DBI1&_phstart=successSource
1947 marriage record
https://search.ancestry.com/cgi-bin/sse.dll?indiv=1&dbid=5241&h=89197&ssrc=pt&tid=59329431&pid=190053622813&usePUB=true
1951 article in Columbia Record (SC) re an exhibit of his work
https://www.newspapers.com/image/744920780/?terms=douglas%20abbey%20jones&match=1
1953 city directory, Greenfield MA
https://www.ancestry.com/imageviewer/collections/2469/images/9959078?usePUB=true&_phsrc=Ezq5&_phstart=successSource&usePUBJs=true&pId=500636690
1953 article in the Brattleboro Reformer (VT) re his teaching
https://www.newspapers.com/image/547789223/?terms=douglas%20abbey%20jones&match=1
1955 article in the Brattleboro Reformer (VT) re a fire at his studio
https://www.newspapers.com/image/548090517/?terms=douglas%20a.%20jones&match=1
1958 article in the Brattleboro Reformer (VT) re his education and work
https://www.newspapers.com/image/547980239/?terms=douglas%20a.%20jones&match=1
1963 article in the Brattleboro Reformer (VT) that mentions his freelance work
https://www.newspapers.com/image/548126306/?terms=douglas%20a.%20jones&match=1
1965 article in the Portsmouth Herald (NH) re his art
https://www.newspapers.com/image/56482220/?terms=douglas%20a.%20jones&match=1
1966 father's obituary in Hartford Courant (CT)
https://www.newspapers.com/image/242493756/?article=bfc7efce-6220-47d1-ad24-628f07053f01&focus=0.3700453,0.033711422,0.4911667,0.24508727&xid=3355&_ga=2.126191181.1922745345.1633642804-1432932271.1633642804
1970 article in the Brattleboro Reformer (VT) re his education and art
https://www.newspapers.com/image/548395220/?terms=douglas%20a.%20jones&match=1
1980 VA death record
https://www.ancestry.com/discoveryui-content/view/3360745:2441?tid=&pid=&queryId=87a3e3067e87f68485c61f8c3c83cde2&_phsrc=DBI2&_phstart=successSource
1980 Social Security applications and claims index
https://www.ancestry.com/discoveryui-content/view/21387797:60901?tid=&pid=&queryId=ef877de0583e08826c2c22c53c92f61f&_phsrc=DBI8&_phstart=successSource
1980 Massachusetts death index
https://www.ancestry.com/discoveryui-content/view/602798:7457?tid=&pid=&queryId=87a3e3067e87f68485c61f8c3c83cde2&_phsrc=DBI4&_phstart=successSource
1980 Find a Grave record
https://www.findagrave.com/memorial/159846415/douglas-a-jones
2009 photographs from a gallery show of his art at Northfield Mt. Hermon School (includes photos of some paintings)
https://www.flickr.com/photos/nmhphotos/albums/72157622831521139
2009 wife's obituary in the Keene Sentinel-Source (NH)
https://www.sentinelsource.com/news/obituaries/martha-l-jones/article_4a55b1dc-6613-5927-b6db-1f6d508bb4d5.html
2018 article in the Greenfield Recorder (MA); interview with a student of his
https://www.recorder.com/Northfield-artist-aims-to-pass-on-mentor-s-legacy-17073498