David Lloyd Ohlson Jr.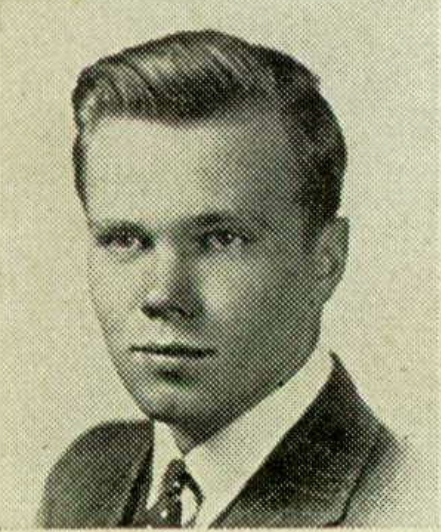 2LT in 603rd Engineer Camouflage Bn : Co D
ASN#19101603
Born 1919 in WA, Died 1991
Artist
County of residence at enlistment: San Mateo County, CA
Other residence(s): Everett, WA; Burlingame, CA; Wilmington, CA; Manhattan Beach, CA; Fairfield, NJ
United States Army, European Theatre of Operations
Occupation before the war: clerks, general office
College education before the war: San Mateo Junior College 1 year
Notes: promotion to 1LT
Source: Company D Names Only Roster; Bernie Mason Company D Roster; Bernie Mason photo of Company D in Trier with names on back; photo from 1937 Burlingame HS yearbook
David Lloyd Ohlson, Jr. was born on December 19, 1919 in Everett, Washington. His parents had both been born in Sweden, and he was one of two sons. In 1927, his father (who had previously taught in the Everett schools) took a job as a physics and chemistry teacher at Burlingame (CA) High School, and the family relocated. David graduated from Burlingame High School in 1939, where he was President of the Senate, and where the yearbook said of him: "When Webster defines 'pep' as being 'brisk energy or initiative, usually with high spirits,' he is speaking of Dave. If . . . he isn't panicking half the student body with his fish imitations, he's off somewhere in school straightening out someone's financial difficulties or running errands for a grateful faculty member. Watch Dave go places." He went on to study at San Mateo Junior College, where he was the yearbook staff photographer.
In the 1940 census, he was described as having two years of college, and working as an office boy.
At the time he filled out his draft card, in July 1941, he was working as an ordinary seaman with Standard Oil of California. He enlisted in the Army as a private in the signal corps on November 14, 1942, at which time his occupation was listed as clerk.
On August 11, 1943, he graduated from Officer Candidate School in Fort Monmouth, NJ with a commission as a 2nd LT. After that he was sent to administrative school in Asbury Park, NJ.
His brother Robert also received a commission as a Lieutenant during the war.
Sometime during the war he married Barbara Jane Boucher.
He was released from the Army on December 9, 1945 with the rank of 1st LT. He and Barbara had two children by the fall of 1946, and he took a job in sales with Ponder & Best, a photographic equipment distributor. The company had been founded in 1938 by immigrants Max Ponder and John Best, who had fled to the US from Germany as Hitler rose to power. The pair had started out selling photographic equipment from a 1936 Oldsmobile--Best wrote invoices from the back seat while Ponder retrieved merchandise from the trunk. (The company introduced Vivitar, their own brand of equipment, in the mid-sixties.)
The Ohlsons would go on to have four children, and David appears to have continued to work at Ponder & Best, where by 1955 he was the western US sales rep for the company. The family lived in Wilmington, CA in the post-war period, and David was a member of the Lens & Shutter Guild there. They had moved to Manhattan Beach, CA by 1952, and were there through at least 1965.
David and Barbara divorced in Los Angeles in 1966. At the time of his mother's death in 1972, David was living in Fairfield NJ, but he eventually moved back to California.
He died on April 29, 1991 in Los Angeles, and is buried at Riverside National Cemetery in Riverside, CA.
Photos
1937 Burlingame HS yearbook photo
https://search.ancestry.com/cgi-bin/sse.dll?indiv=1&dbid=1265&h=359111324&tid=&pid=&queryId=42a9855f56b995f625e7edc44b7bbcba&usePUB=true&_phsrc=qxF26&_phstart=successSource
Sources:
1937 Burlingame HS yearbook
https://search.ancestry.com/cgi-bin/sse.dll?indiv=1&dbid=1265&h=359111324&tid=&pid=&queryId=42a9855f56b995f625e7edc44b7bbcba&usePUB=true&_phsrc=qxF26&_phstart=successSource
1939 San Mateo Jr College yearbook
https://search.ancestry.com/cgi-bin/sse.dll?indiv=1&dbid=1265&h=1436375368&tid=&pid=&queryId=42a9855f56b995f625e7edc44b7bbcba&usePUB=true&_phsrc=qxF30&_phstart=successSource
1940 census
https://search.ancestry.com/cgi-bin/sse.dll?indiv=1&dbid=2442&h=75100231&tid=&pid=&queryId=42a9855f56b995f625e7edc44b7bbcba&usePUB=true&_phsrc=qxF12&_phstart=successSource
1941 draft card
https://search.ancestry.com/cgi-bin/sse.dll?indiv=1&dbid=2238&h=18010835&tid=&pid=&queryId=6d22c0553a5f7c945186503761127d3c&usePUB=true&_phsrc=qxF2&_phstart=successSource
1942 enlistment record
https://aad.archives.gov/aad/record-detail.jsp?dt=929&mtch=1&cat=all&tf=F&q=19101603&bc=&rpp=10&pg=1&rid=296830
1943 article in The Times (San Mateo CA) about his military service
https://www.newspapers.com/image/38864531/?terms=david%2Bl%2Bohlson
1948 father's obituary in The Times (San Mateo CA); contain information about son
https://www.newspapers.com/image/38888047/?terms=david%2Bl%2Bohlson%2Bjr
1950 article in Wilmington Daily Press Journal (CA) re The Lens and Shutter Club
https://www.newspapers.com/image/359333259/?terms=david%2Bl%2Bohlson
1955 article in The Times (San Mateo CA) about his employment
https://www.newspapers.com/image/51869638/?terms=david%2Bl%2Bohlson
1966 divorce record
https://search.ancestry.com/cgi-bin/sse.dll?indiv=1&dbid=1141&h=2044230&tid=&pid=&queryId=42a9855f56b995f625e7edc44b7bbcba&usePUB=true&_phsrc=qxF27&_phstart=successSource
1972 mother's obituary in The Times (San Mateo CA); shows David living in Fairfield NJ
https://www.newspapers.com/image/52061538/?terms=david%2Bl%2Bohlson%2Bjr
1991 VA death record
https://search.ancestry.com/cgi-bin/sse.dll?indiv=1&dbid=2441&h=8214098&tid=&pid=&queryId=087451bd75ac481df51c43f4dd4edf86&usePUB=true&_phsrc=qxF3&_phstart=successSource
1991 US Veterans' Gravesites
https://search.ancestry.com/cgi-bin/sse.dll?indiv=1&dbid=8750&h=2298438&ssrc=pt&tid=24321097&pid=230096642745&usePUB=true
1991 Find a Grave record
https://www.findagrave.com/memorial/82523480/david-lloyd-ohlson