Letters to Lou
November 12, 1945
Letters from Arthur Singer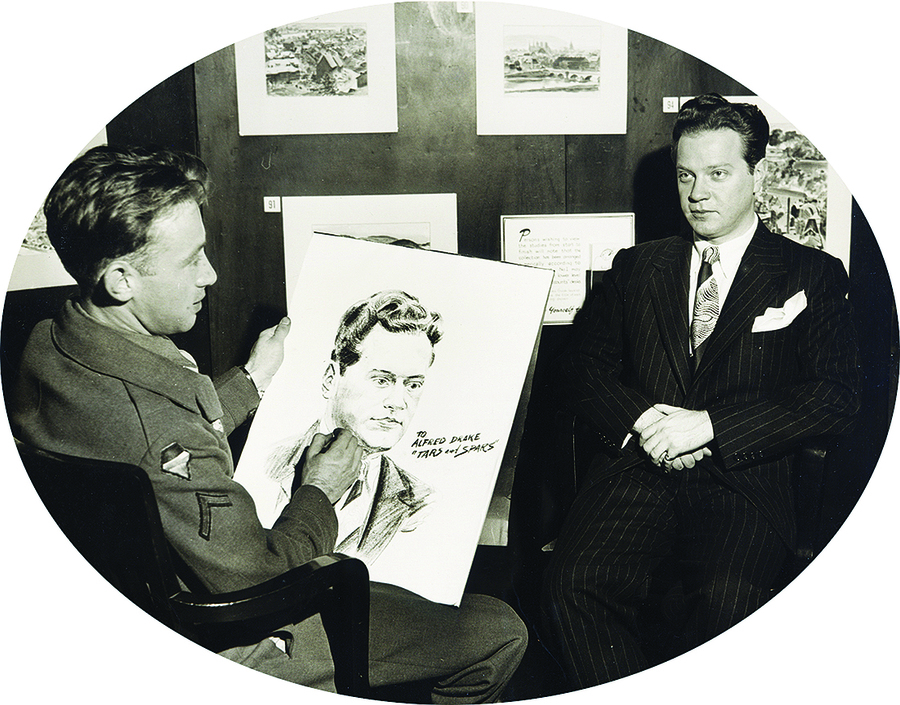 Dear Lou,
I'm sorry that I'm a week late answering you, Gate, but I've really been doing a lot of running around. I don't know just where to start. Judy and I saw Ann and Beverly at Herbie's house – when I first got home. You know about that, since then I haven't seen Ann or the baby. However, it will be very soon. The trouble is that I've been going around so much that I'm really "beat" by the time evening comes around.
We've had no luck whatsoever in finding an apartment. The situation is so hopeless. Something may turn up. Ads in the newspapers don't bring results although I intend to try again. There is usually a "catch" to each proposition. To buy a house would be foolish because prices are sky high and the value will go down on them as soon as the housing shortage is alleviated. As for building it is still extremely hard to get the materials and it would cost far too much to build the kind of house I'd like. So I guess we'll stay put for awhile at Judy's mother's even though neither of us like the idea.
I've seen Herbie a number of times recently – and Bernie too! Bernie is working at the Reiss Agency now. Ralph should be getting home soon also. George Fox is home too and we're going to visit there tonight. Herb and Sylvia will also be there. It's years since I've seen George, so it should be a nice evening.
Well, Gate, you may have a slightly exaggerated idea of what a guy can make in the way of money these days. It is very possible in N.Y. to make 10 or 15 thousand a year as you say, but only if you have quite a number of clients. For the guys in my position, no, it is not possible. Free lance men are doing their top business now, but these guys have either not been in the Army all along, or else did quite a lot of work for many people before the war.
I can't even look around for advertising work because I don't have any good samples. I can only show a few things – that are closer to the illustration field – animals and ETO sketches plus a few good commercial pieces. I decided, therefore, to take a job and in addition make contacts in fields I'm interested in – like kid's animal books.
I had four offers of jobs and some were for less than five thousand a year. I know how I always felt about Sackheim so it was even a surprise to myself that I finally took the job with him. I first discussed it with a few people who know both agencies, where Herbie works and this Sackheim place. Sackheim's agency has grown a lot and he is beginning to get a list of accounts that are far superior to that I knew years ago. His agency has built a reputation in the advertising business of high quality stuff. Another thing that made me think is that Sackheim would give me the accounts to handle that allow for the most creativeness. At Herbie's place I know very well, I'd be his helper and I couldn't expect to get any of the good jobs. However, I decided to hitch up with Ben – at least for a while – until I see how things work out. I feel convinced that in case I should leave him, I could find another job without much trouble. However, Lou, I know you're groaning at this news, but hold on a minute. So I'll be getting my hundred a week – then I made a contact with a book publisher. There is a manuscript in the mail from this outfit – it's a juvenile book for me to illustrate!! If I make good I'll be doing plenty of illustrating and they told me they'll give me any animal book they get that calls for illustrations!! They are even interested in getting someone to write one on animals and with my artwork! So, perhaps, Gate, I can make my plan work which is to hold a steady job (and save some money – which I never made in the army – so I have to catch up) and also do work at night on book illustrating and free lance advertising work. I may do some of the latter for Reiss. I met Harold Reiss the other day. Another idea I have for doing animals and making money also, I have to work out with a friend of mine from the Army. If that works, things will be really swell for then I may possibly be able to devote part of my time to animal and children's book[s], the other part to making animal figurines.
At the present time I'm down at the Franklin Society. My exhibit opened last Friday and I had to take the a week off from the Agency because I was foolish enough to say yes when I should have said no. That was before I took my job however. You'll really howl when you here [sic] this, Lou. I'm doing a patriotic duty to the U.S. by aiding sale of war bonds!!! I'm down here at the bank and I'm doing a portrait sketch – free – for anyone who buys a $500 bond or larger. It nets me nothing and I lose a week's salary. All I get out of it is publicity. I feel like a Coney Island sketch artist but frankly, I do better than they do. Actually, I have enjoyed it a bit. I felt on the spot with people looking on – a very limited time to make each sketch – and also portraits are a touchy business anyhow. So far I haven't failed on any one of them yet as far as likeness goes. When things are slow I do a few of some people that have had some notoriety. I did one of Alfred Drake, the original singing star of Oklahoma. The[y] took photo shots for the papers. Drake's in the movies now. I did another of a Powers model, one whom I recognized the minute she walked in for she's on almost every cover of Vogue – my, my, what a "sharp chick" she was. Then I did another of a war hero – a lieutenant Commander from the carrier B S S. Franklin. There were plenty of photos made but I haven't seen any in the papers yet, although there were a bunch of small articles in most of the N.Y. papers. When it comes right down to dollars and cents – I've seen nothing yet although there are some possibilities of sales of my watercolors. So much for that "clambake." I haven't been letting any "grass grow under my feet" since I got back home. Judy was peeved that I got so busy, so soon. I'm anxious to do as much as I possibly can.
I saw Mr. Dowden last night and he send[s] his regards to you. I also visited my friend, the Duke at the Zanzibar last night.
Judy is feeling quite well aside from getting nauseous occasionally. George had a big party over his house last Saturday night. It was swell seeing him again after about 2 ½ years. He also brought back a lot of work from the Islands. Herbie and Sylvia came over later with Steve & Claire and Irwin and Ann.
By the way, Gate, I had my picture in the N.Y. Herald Tribune last Sunday!
I gotta close now Lou and this letter could continue indefinitely with all the news. See what you can do about coming home to stay. What's the latest – and brighter light on the horizon. Love from Judy and me.
Arty