Board Members
Richard Mark
Chairman
Richard Mark is a partner in the law firm Gibson, Dunn & Crutcher, LLP. Before entering private law practice he was an Assistant United States Attorney and Chief of the Civil Division in the Southern District of New York and First Deputy Commissioner of the New York City Department of Investigation. Richard graduated from Dartmouth College with a major in history. He is an avid supporter of the project to preserve the story of The Ghost Army, and to make that information and material accessible to students of history in the future.
Rick Beyer
President
Rick Beyer is an award winning documentary filmmaker, best-selling author, and long-time history enthusiast. He produced and directed the award-winning PBS documentary The Ghost Army, and is the co-author (with Liz Sayles) of The Ghost Army of World War II. He has spent the last dozen years researching and telling the story of the unit. Beyer has also made documentary films for The History Channel, National Geographic, and others. He is the author of Rivals Unto Death: Hamilton and Burr and the popular Greatest Stories Never Told series. He is a graduate of Dartmouth College.
Carolyn Spence Cagle
The daughter of Ghost Army veteran Joe Spence, Carolyn Cagle is an emeritus professor of nursing at Texas Christian University. Her long and varied resume includes research, editorships, cosultantships, and many honors. She has extensive non-profit and grantwriting experience. Carolyn currently lives outside of Branson Missouri.
Carla Fortmann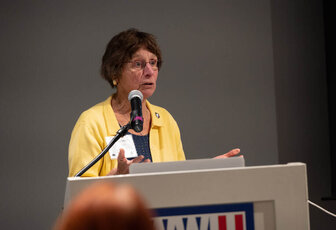 After a career in nursing, Carla Fortmann became co-owner of the Crafty Yankee, a retail store in Lexington, which was sold in 1995. Her passion for history has led her to be very active with the Lexington Historical Society, and she is currently the manager of the Buckman Tavern Museum Shop. Carla and her husband of 50 years live in a historic property on Lexington Green.
Roy Eichhorn
Roy Eichhorn is president of Critical Thinking Applications LLC and consults on critical and strategic thinking. As Director, Research and Development, US Army Command and General Staff College, he did extensive research on the Ghost Army and other military deception efforts. Roy contributed to the re-introduction of Ghost Army deceptions to the U.S. Army and developed case studies around it for Army schools. He is the stepson of Ghost Army soldier George Martin (603rd).
John Jarvie (Past Board Member)
Past Board Member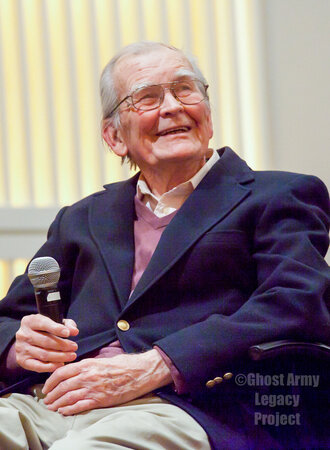 ​John Jarvie studied art at Cooper Union before joining the Army in 1942. He served as a jeep driver in the 603rd Camouflage Engineers, the visual deception arm of the Ghost Army. After the war he spent thirty years as an art director for Fairchild Publications, owner of Women's Wear Daily, supervising a staff of artists and writers. A resident of Kearny New Jersey, John passed away on July 11, 2017, at age 95. Photo by Mara Brod.