Postscript: Love and Loss
This is the story of a wartime romance and a search through historical archives ​for an answer to a 75-year old mystery.
In times of war, love can blaze from a tiny spark to a full flame with astonishing speed. That's what seemed to happen with Harold Dahl and Nancy Wooddell, a nurse at the hospital where his buddy Cleo Hovel was recovering from wounds sustained in Operation BOUZONVILLE. On April 14 and 15, 1945, Harold writes two letters to his mother and sister Lucy to tell them about meeting Nancy: "[I] was one damn lucky G.I. to have a lovely American nurse all to myself. Perfectly wonderful girl who thinks Harold is just about the grandest man on earth. Lucky me! ... She is a perfectly wonderful person - 28 years old & very cute, plenty of brains & wit and honest as they come... she did me the great honor of falling for me as hard and far as a sensible person could in so short a time." Only a few weeks later, on May 7, Harold is thanking his sister for sending a package to Nancy, and also mentions "Tommy Weir took her the painting of Luxembourg which I sent her as a sort of engagement present." In Harold's letter the next day, he writes "There is something I want to tell you that up to now has merely been hinted at. While we do not plan to do it here in Europe, Nancy Woodell and I are to be married as soon as both our G.I. jobs are done. I know it sounds precipitous and all that, but I can assure you that I have my eyes wide open and know that I could never find a better wife."
Nancy seems to be as smitten with Harold as he is with her. In his May 8th letter, Harold quotes a letter that Nancy wrote to him, when he asked her when they would get married: "When? - whenever possible - where? - wherever we are - How soon things can be arranged depends not on us - but the convenience of the government... Darling I love you as completely as my self is able but I intend to stick to my job until it is over. You know as well as I that we must finish this before we start our own lives... Just remember I love you from now until forever."
It appears that Nancy was relocated sometime between April 24 and June 2; Harold's letter on May 8 mentions he saw her on April 24, and his letter on June 2 mentions that he has received a letter from Nancy. On July 3, he says "Poor Nancy is on the way CBI [China Burma India theater] direct. Missed her by one lousy day at Soissons." But it appears that Harold never hears from Nancy after they are separated. In August, Harold writes to his sister and asks her to phone Nancy's sister Roberta to see if she has heard anything from Nancy. In an undated letter probably written in September, Harold confesses "I certainly wish a letter would come from Nancy - it is 3 months since I heard from her & that's an awfully long time." By October, when his tour of duty is nearly over and he is starting to think about what he will do when he returns to the United States, he seems to have given up hope: "Not having heard from Nan in all this time looks not at all good, so I am going ahead with alternate plans in which the schooling will be at night instead of days." Harold went on to marry Carolyn Hink in 1949.
Harold never told his children about his whirlwind romance with Nancy. Harold's daughter, Janet Freeman Dahl, wrote in an email, "No one ever mentioned her. Not Dad or his sister, Lucy that I ever remember. We found out about her from the letters, and figured out who she was in the photos, based on the letters." As mysteries go, this is not an earthshaking one. A brief passion extinguished by the winds of war is a common tale. But the relationship intrigued us at the Ghost Army Legacy Project. Would it be possible, 75 years later, to learn any more?
Our search to see what happened led us to The Women Veterans Historical Project at the University of North Carolina Greensboro, where we discovered a small collection of wartime letters and photographs belonging to Nancy and her sister Roberta. The collection included a short biography for Nancy:
​Nancy Wooddell Thornton (1916-2002) served in the United States Army Nurse Corps from 1941-circa 1944. Thornton graduated as a registered nurse from St. Luke's Hospital in San Francisco and was the first of the sisters to join the Army Nurse Corps. She was commissioned as a Second Lieutenant in the Army Nurse Corps, and later that year was stationed in Fort Jay on Governors Island, New York, and then Fort Dix, New Jersey, before being sent to Panama for the next two years. She was then stationed with the European Theatre of Operations in Southern France until 1945. On V-E Day (Victory in Europe Day, occurring on 8 May 1945), she volunteered to serve in the Pacific Ocean Theatre of Operations; her final assignment taking place in Japan. She was awaiting discharge upon her marriage to Herbert Thornton on 6 April 1946. She died at age eighty-six on 15 November 2002 in Chestertown, Maryland.
​We wrote to the archivist at UNCG, Beth Ann Koelsch, and asked if by some chance any of Nancy's letters mentioned Harold. We held our breath until Beth wrote back the next day. Yes, there was a letter in the collection that mentioned Harold, a letter Nancy wrote to her mother on July 15, 1945. This was a crucial period for us in understanding her silence, because it was right in the heart of the time when she wasn't writing to Harold. It is an emotional missive about war, and love, and marriage - and Harold - written by a young woman being forced to grow up in a hurry.
July 15, 1945
15 July.

Dearest Mommie

I am very bad. I did not realize it had been so long since I wrote. I am ashamed Mommie.

So much has happened. As soon as VE day a request for volunteers for C.B.I. (China, Burma, India) came out, I volunteered. (It was either CBI or Army of Occupation) and in a few weeks we were alerted and sent down to Southern France to a staging (Preparing) area. Since I arrived here we have been busy, life was different. We had the usual details to attend to and so mother the time has flown by. I did not realize until I received your letter yesterday it had been so long. I am sorry.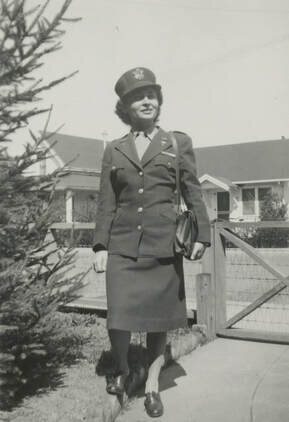 About this change mother - I am now with the 229 General Hospital. All the nurses are volunteers from hospitals all over France. I think it is one of the nicest groups I have ever been with - where we will go is not known to us as yet, but we will go some where either in the Asiatic or Pacific area, since that is where they will need the hospitals from now on. When this battle finishes mother I will come home, for good, but until such time as that, I am strong healthy and single I do not belong home. There is too much work to be done over here. When I will leave here I do not know. However dear when I do I will have a long trip ahead of me. You may not hear from me during the trip but don't worry we will be well cared for and safely transported to our next theater. I will write to you often until I leave.
Mother dear your letter to Harold was wonderful. Mommie you know me very well I am not ready as yet to decide who or when I will marry. When I do, I will tell you. I may marry Harold - I may not. There is so much as yet in this world that is undecided. I do not know now what I will want for my tomorrow - Harold is a very fine intelligent young man. In a way I love him but whether that love will last over years of separation I do not know. I wish I could talk to you. I don't want Harold hurt. If he wants to dream great things for tomorrow then let him. I am a realist I know how time and distance weaken even the strongest ties. He wanted to get married over here. I said that if we felt the same after the war was over and we had returned to sanity I would. Harold is very eager and very much in love. When the war is over, we will see - you see maybe I am being unkind I do not know. War does funny things to people. Harold's job mother is not finished he will spend a little time in the States then go on to the Pacific. There he will live in God knows what conditions. When you are far away from home, the life and comforts you have always had, in a world devoid of beauty, if you are a sensitive person, dreams of a tomorrow assume huge proportion. When reality is too stark it is pleasant and necessary to think of a beautiful tomorrow. Harold found me when he was tired and sick of war's destruction. In me he saw a tomorrow. He loves me with a love I am unworthy of, but would it be kind for me to destroy now that dream when I know that he will need it again. I do not know. Mommie maybe I'm being stupid and cruel I do not know. When the war is over and he returns to the States to his home family friends the things he loves the life he longs for then when we can spend some time knowing each other as we are in civil life he and I will be better able to know if we are truly in love. How can we tell now what is love and what is wishful thinking? How can we know now what tomorrow will be?
Well mother dearest, so much for that I know how hot Home is but where I am it is also hot, but I love it. You know my dislike of cold weather. Glad that the babies are all well cute and healthy. Watch them grow for me.
Take care of yourself mother dear and I'll write often although I promise that so frequently and backslide. I will until I am safely settled in a new theater anyway.
All my love dearest I miss you terribly, but when I do come home it will be for good.
'bye for now my dearest mom
Nan nee.
P.S. I am now a 1st Lt. Got my promotion July 1st about time eh?
Love
Nan
Nancy's letter answered some questions for us as we pondered her silence after April 24, 1945. She loved Harold, but she didn't have the utter faith in the love that he did, and she didn't want to take away his faith and his need to believe in their love as he faced the dangers of war. She wasn't closing the door to a future with him, but she wasn't ready to walk through that door as quickly as he was. Perhaps her new promotion and duties distracted her from Harold once they separated. Perhaps she met her future husband, Herbert Davey Thornton, shortly after going abroad, and another passion flared for her. Thornton was serving in the Navy, and they married only nine months after this letter was written. Hopefully we'll be able to piece more of the story together in time.
Harold's letter on April 15, 1945, telling his mother and sister that he had fallen in love with Nancy, bore a cryptic statement: "[T]here was a very good reason for our sudden and immediately searching intimacy which sounds so much like fiction that we will save it and someday Nan or I can tell you about it in person." Their letters have not revealed that reason, but at least with the reunion of their letters on this website, we have new insight into this passionate, loving wartime romance.