1944 Entries
January to June 1944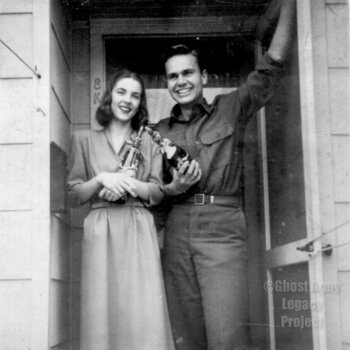 Jan. 15 - 18 Meade - Forrest [Fort George G. Meade, Md. Camp Forrest, Tennessee.]
Jan. 25 Bunn's Arrival in Tullahoma [Tennessee]
April 20 - 22 Forrest - Kilmer [Camp Forest to Camp Kilmer, NJ]
May 3 3 A. M. Left New York for England
May 2 Left Kilmer to board Henry Gibbons [US Army transport]
May 14 Anchored off Cardiff [capital of Wales, about 150 miles west of London]
May 15 Docked Avonmouth [port of Bristol, England]
May 16 4 A. M. Left boat and boarded train for Kineton (Walton Hall) [Estate, England, near Stratford-on-Avon]
June 18 Left Walton Hall and arrived Exeter [city in Devon, England] - 154 miles
June 19 Saw hundreds of C 47's leave nearby airport to drop supplies and return a few hours later.

June 20 Left Exeter - arrived Hursley Camp - 115 Miles.
June 21 Left Hursley for Southampton - Boarded the L.S.T. [Landing Ship, Tank] 335 late afternoon.

June 22 Laid in harbor off "Isle of Wight"
June 23 11:46 P.M. pulled anchor for France

June 24 "D" plus 18 - Anchored off Utah beach about 11:30 A.M. drove out the big doors about 5:30 P.M. through traffic control area, etc. through Carentan, Isigny, to about 3 miles north of Treviers, arrived at camp about midnight. Ecranville.