Painting with Words
November 20, 1944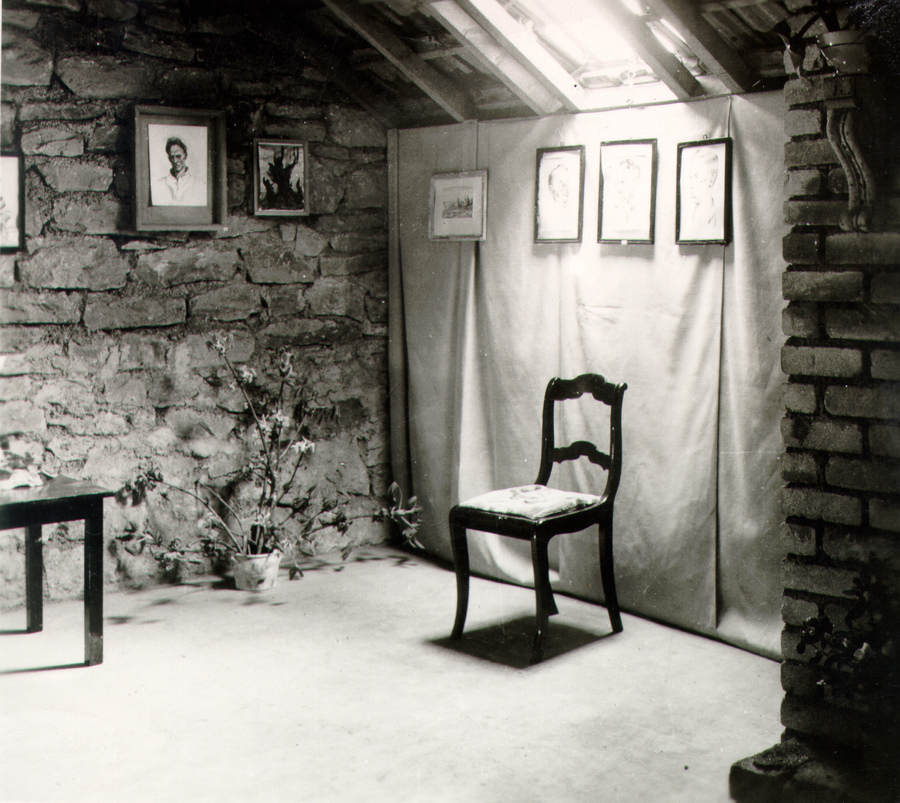 Nov. 20, 1944
Dearest Judy,
I've enclosed another photograph after debating with myself as to whether or not I should send it to you it's rather horrible, that's the only word for it. The look on my face must have been because of that K ration I was eating at the time. It was snapped in Normandy near Periers. Gruesome, ain't I? Do you think you'll still love me the same way after seeing it?
Well, to get back to the current events, yesterday was Sunday and it started out as a very beautiful day. Barney and I took off to do some sketching in the city. I christened one of the new Whatman pads you sent with a watercolor. It's a fairly nice piece but I'm not satisfied – yet. Barney did a little gem that I like very much. Frankly, it isn't often he does anything as fine as that. We were out for more than three hours when the day began to grow gray. We finished our work and returned to the quarters. When we got back we had a swell feast on the contents of the packages both of us had received. Then I went up to the attic and did some work on a picture I had just started a couple of days previously. In the evening I had very little to do. I had seen the picture The Uninvited and so I wandered around looking at artwork guys had done during the day, and there was plenty a [sic] nice things accomplished.
I did a copy of the piece I did during the day, but in a different technique. And I'll be doing more of the same place in other mediums. So Sunday flew by and still no letter from you. Today is Monday and still no letter, it really brings me down.
Nothing unusual doing this morning, same old work but in the afternoon we got a break. Marlene "Million Dollar Legs" Dietrich was in our building and put on a swell show!! Unfortunately, she didn't show her legs but nevertheless it was a nice way to spend an afternoon. She looks marvelous it's hardly believable she has seen so many years, about thirty eight. She is very well preserved and looks exactly like the photographs of her. I saw her close by as she came in the hall. That woman sure is a sexy looking female, the word for her is "wicked." Fred took lots of pictures of her very close up and a couple of the boys will have a photograph of themselves standing next to her, she obligingly posed. So much for the afternoon.
Tonight after my letter writing is completed, I think I'll go see the movie that's playing. It's Broadway Rhythm and I really don't expect very much but Lena Horne and Hazel Scott are in it, in technicolor and I'd like to see it if only for that. And that just about covers everything that's been happening with me.
But it doesn't cover war events. This frontal drive has begun and things should begin to happen. A lot will count The events now are important and I hope everything goes good and the war will end soon, perhaps. Let's hope it ends for I'm dying to be with you.
Take care of yourself, my Angel, I love you. Goodnight now.
Your,
Arthur