Harold Wadsworth Flinn Jr.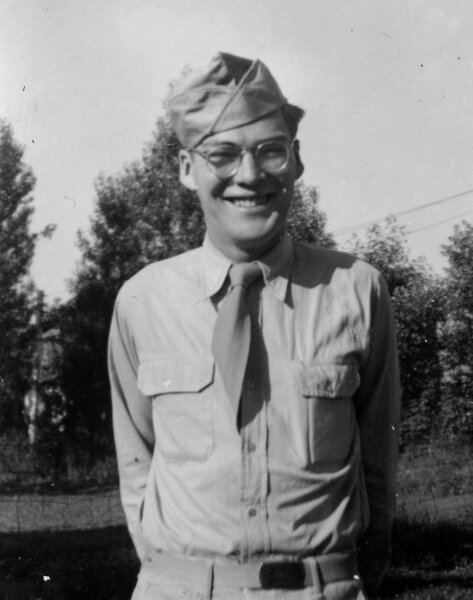 3132nd Signal Service Co
ASN#16097939
Born 1923 in IL, Died 2020
County of residence at enlistment: Cook County, IL
Other residence(s): Maquon, IL
United States Army, European Theatre of Operations
Notes: big loyal 3132 member
Source: 3132 Caption List; Ghost Army roster by state; Post War Sonic List from Bill Anderson; Col John Walker List; bio info from The Ghost Army by Beyer/Sayles; photo from Flinn Collection, GALP Archive
Harold Flinn was born on December 1, 1923 in Chicago, IL, the younger of two children. His father was a steamfitter. He graduated from Maine Township High School, in Maine, IL, where he was a winning cross-country runner.
After high school, he enrolled in a radio communications school, and that eventually got him selected as a member of the 3132 Signal Service Company of the Ghost Army. He registered for the draft on June 29, 1942, and enlisted on February 15, 1943.
Harold told Rick Beyer that he marveled at the faithfulness and thoroughness of the audio recordings made by the unit, along with experts from Bell Labs, before they went overseas. "You could hear 'em hammering away and swearing."
He met Ruth Ann Platt during his military training, and they were married on May 16, 1944, before he, and the rest of the sonic company, left for Europe.
After the war, Harold and Ruth Ann settled in Chicago where he worked for Bell Labs for a few years. In the late 1940s, they took over Ruth Ann's family farm in Maquon, IL, and raised a family there. They would have five children: Douglass, Harold, Steven, Patricia, and Mary, and a foster son, David Hendrickson.
At some point, Harold lost his leg below the knee in a farming accident, but he didn't let that get in his way. He tooled around in a Fiat convertible, and, in retirement, took long bike rides with Ruth Ann, sometimes upwards of 30 miles.
Harold was a member of Grace Anglican Church in Galesburg, IL and served on the church's vestry and building committees. He was Commander of the Maquon American Legion, Chairman of the Maquon Homecoming, and served as Boy Scout Master to the Maquon community. He was a member of the Lincolnland Coachmen Camping Club, a master gardener, and, along with Ruth Ann, taught gardening classes and served as a Knox County 4H judge.
According to his obituary, Harold embraced new technology, education, and creativity, and knew how to enjoy life. "Whether it was gallivanting through the neighborhoods on the north side of Chicago and visiting Wrigley Field in the 1930s, or taking long cross-country camping vacations with his family, or being at the lake with the extended family on nearly every Sunday afternoon throughout the summer; Dad balanced work and play."
Harold died on January 19, 2020, in Elmwood, IL, and is buried at Maquon Cemetery. Ruth Ann lived nearly as long, dying in September, 2017.
Sources:
1940 census
https://www.ancestry.com/discoveryui-content/view/140611238:2442?tid=&pid=&queryId=5353d30972001b8e8f08fe98a130bd48&_phsrc=Owm8&_phstart=successSource
1942 draft card
https://search.ancestry.com/cgi-bin/sse.dll?indiv=1&dbid=2238&h=300481840&tid=&pid=&queryId=8b64b1db4062b90e21d0a8933c2c76e0&usePUB=true&_phsrc=Owm4&_phstart=successSource
1943 enlistment record
https://search.ancestry.com/cgi-bin/sse.dll?indiv=1&dbid=8939&h=5049835&tid=&pid=&queryId=8b64b1db4062b90e21d0a8933c2c76e0&usePUB=true&_phsrc=Owm5&_phstart=successSource
1944 marriage record
https://search.ancestry.com/cgi-bin/sse.dll?indiv=1&dbid=1500&h=1785194&tid=&pid=&queryId=5353d30972001b8e8f08fe98a130bd48&usePUB=true&_phsrc=Owm8&_phstart=successSource
2020 Find a Grave record; includes obituary
https://www.findagrave.com/memorial/206423874/harold-w.-flinn